Meet our travel friend Danny Kaine ….
13 Ways to Increase Travel Safety, Even Before You Leave Home.
by Danny Kaine, Founder & CEO of Nomad SOS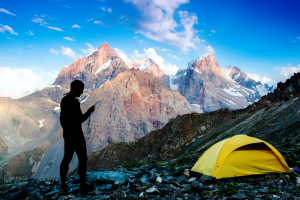 By now, you are probably so sick of hearing the reasons why you shouldn't travel. "You need to concentrate on your career…" "You need to save for your retirement…" "It's not safe!" Sound familiar? I say, forget that! If you wait for the perfect time to travel, before you know it, you will be pushing up daisies with a past life full of regrets.
It's true, around the world there is famine, political instability, and acts of crime, war and terrorism. It is also true that year after year, these statistics have increased exponentially. Should this stop you from traveling? Look at it this way, there will likely never be a safer time to travel than today, tomorrow, the next day, and each day thereafter.
With that in mind, there is no better time than right now to start planning your trip. Ignore the naysayers and dismiss the over-inflated media reports. Book your flights, give yourself a break and put your life in the rear-view for a while. By following these pre planning travel safety considerations, you will reduce your chances of anything happening, and be prepared if it does.
RESEARCH
Research your destination. There are many ways you can do this, although I advise searching online for travel blogs of people who have actually been there, and ideally within the past couple of years, so that the information is still relevant. Avoid websites that give reviews on hotels, while you can find positive feedback, you typically need to sift through a lot of negative, and irrelevant information that mostly just leaves a bad taste in your mouth.
People always tells you to 'research' where you are going, but they never tell you what to research.  Here is a quick checklist:
VISA
Do you need to apply for a Visa before traveling to the country? If so, how long does it take? If the Visa is issued upon entry, how long is it issued for? Do you have a plan in place for your next destination?
LANGUAGE
What is the official language? Do you speak it? Do you have time to learn the basics? You would be surprised by how the local peoples attitude toward you will change for the positive if you just show some willing in trying to speak their language.
HEALTH
What is the healthcare system like where I am going? In most countries, even some third-world countries, the healthcare system is reliable and affordable and medications that you may normally need a prescription for, are available over the counter in pharmacies. A personal rule I have that has served me well, drink only bottled water and ask for no ice with your drinks at bars and restaurants. Consult a travel clinic before you depart, make-sure your inoculations are up-to-date.
CULTURE
Research and obey the local customs and laws of the country you're visiting. An arrest or accident during a trip abroad can result in a difficult and expensive legal situation. Your citizenship does not make you exempt from full prosecution under another country's criminal justice system and your country of residency cannot bail you out. Visit the embassy website of the country you are visiting to learn more.
SECURITY
What is the security situation? Is there a high-rate of kidnappings or crimes agains tourists? What is the political situation? Is my passport welcome? You should ask yourself these questions for each country you travel to, and then research the answers. Each countries embassy typically issues up-to-date travel advisories, however they are often generic so it's better to do your own research.
METHODS OF PAYMENT
What are the accepted currencies? Can you readily access funds through an ATM? Many countries only allow 4-digit PIN codes for ATM's. If you are from a country that allows 6, or even 8-digits, go to your bank and change it to 4-digits, otherwise you will not be able to withdraw money.
ITINERARY
Are there any major events scheduled during your trip that might affect your plans? Pay specific attention to elections in unstable countries and try to avoid if possible. Also, if you plan to attend a religious festival, it should go without saying, be respectful.
MAPS & DIRECTIONS
Take local street-maps with you. Print them out from online if you need to. Mark police departments, hospitals and other places of interest. Take note of large landmarks that can be seen from many directions. You may need that to navigate. Taxi drivers are typically good sources of local information, find a good one and keep his card.
EMERGENCY SERVICES
Know the local phone numbers of police, fire, ambulance & veterinarians if applicable. Always be aware of your surroundings, you may not know the exact location you are calling them to, but you might be able to direct them to a recognizable landmark close-by.
COMMUNICATIONS
Before you go, speak to your cell phone service provider to unlock your cell phone. There will likely be a small fee but this will mean you can either make international calls from your destination, or you will be able to buy a local SIM card to make calls. It is also nice that loved ones can still call you for peace-of-mind. If you are taking a laptop, take an internet cord with you. Yes, some hotels still have plug-in, and some even still have dial-up.
TRAVEL INSURANCE
DO NOT travel without travel insurance. Imagine all of those weeks, months, and even years spent planning your perfect trip being brought to an earth shattering halt by one single incident. Travel insurance is an essential item that should be on your packing list. You will be covered for overseas medical expenses, trip cancellation, lost or stolen baggage and other expenses you probably haven't even thought about.
TRAVEL ID
Travel ID by Nomad SOS is an emergency medical photo ID card for travelers. It includes 14 pieces of information including your name, date of birth, nationality, languages spoken, blood type, allergies, health concerns, medications, impairments, identifying features, donor information, emergency contact details, and of course your photograph.
PHOTOCOPY
Go to your local copy centre, pay a couple of dollars and color photocopy your passport, drivers license, medical documents, inoculation records, travel ID, travel insurance documents and both sides of your bank cards. Also copy your flight itinerary and hotel bookings. Keep one copy in an envelope in your carry-on bag, give the other copy to someone you trust at home. Believe me, if you lose any of your documents when traveling, having copies of them will make it easier to replace them.
Remember, it is very important that you do all of this prior to traveling anywhere. By doing so, there is a mental process that happens where you start to feel less anxious and more prepared for your travels. That is because if you follow this travel safety checklist, you will be prepared, and therefore you will have reduced your risks significantly. A majority of situations that happen can be avoided by pre-planning your trip.
********************
We spoke with Danny on our nation broadcast of Rudy Maxa's World with The Careys on Saturday, 4 June 2016.  Listen to that interview here —
For more information, please visit www.NomadSOS.com