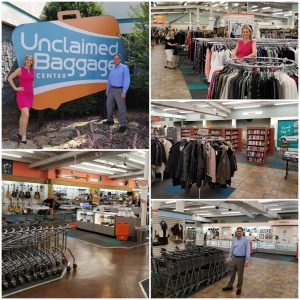 Brenda Cantrell, Brand Ambassador
Unclaimed Baggage
www.UnclaimedBaggage.com
Have you ever lost luggage on an airline and never had it returned?  Or perhaps you've left a book, a jacket, some jewelry or another item on the plane in a seat back pocket or overhead bin?  Ever wonder where it goes?  For nearly 50 years it's all sent to Unclaimed Baggage Center in Scottsboro, Alabama.  And as you might imagine, Scottsboro has become a top travel destination for deal seekers, scavengers, and travelers seeking a most unique type of shopping experience.  While traveling in the southeast for our show, Robert decided to pay a visit to Unclaimed Baggage, and on our live national broadcast we shared this interview with Brenda Cantrell ….