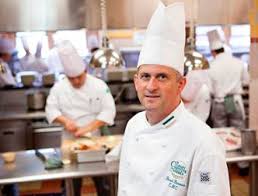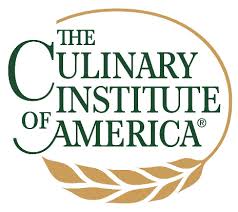 Chef Brad Barnes, Certified Master Chef
Culinary Institute of America
www.CIAChef.edu
If you're a long-time listener of America's #1 Travel Radio Show, then you've heard Robert & Mary broadcast live from the Culinary Institute of America's main campus in Hyde Park, NY several times.  From all of our respective travels related to RMWorldTravel, we frequently encounter CIA trained chefs across the USA and the world at many different hotels, restaurants, cruise ships, theme parks, convention centers, college campuses and more.
Many areas of the country are reopening after the forced Coronavirus pandemic shutdown, and we are seeing noticeable upticks in travel and restaurant dining again.  Since schooling at the CIA is where it all starts for many successful chefs, they're having to rethink and reshape what they teach, so for a different taste of our "Travel The World From Your Own Kitchen" segment, we decided to check-in with them for specifics.
Certified Master Chef Brad Barnes is director of consulting and industry programs at The Culinary Institute of America, where he's responsible for the oversight of ProChef Certification, operational engineering and custom professional training.  He also consults globally with multiple top clients ranging from educational institutions to hotels, real estate developers, governmental organizations, food manufacturers, and a variety of foodservice providers.  He's authored several books, owned his own restaurant, and is the past chair for the national Certified Master Chef Committee of the American Culinary Federation (ACF), and is an ACF-certified culinary competition judge and certified by the World Association of Chefs Societies as an international judge.  Chef Barnes has earned two gold medals at the Culinary Olympics in Germany and served as coach and design director of the ACF's Team USA culinary Olympic teams.
On 6 February 2021, Chef Brad Barnes returned to the program to share an update on the restaurant and hospitality industries, as well as to share an easy recipe that's perfect for Valentine's Day that coming-up in just over a week, or any special occasion where something sweet and chocolatey is in order.  You can hear the full interview that aired across our national network of 465+ weekly radio stations airing RMWorldTravel with Robert & Mary Carey and Rudy Maxa, by clicking on the play arrow immediately beneath this text …
And here's the actual recipe —
FALLEN CHOCOLATE SOUFFLE — Makes 8 servings
STEP 1
9 each Egg
3 each Egg yolk
130g Granulated sugar
Heat to 110°F whip to double volume
STEP 2
680g Bittersweet chocolate finely chopped
120g Instant espresso powder warm
100g Butter – unsalted softened
160g Dark rum
1 each Vanilla
Melt chocolate, coffee, rum and vanilla together let cool to 85°F, fold butter in Fold together by thirds with egg mixture allow to cool to room temperature.
STEP 3
400g Heavy cream
100g Sugar
Whip firm, fold into above mixture. Put batter into a well buttered & sugared deep pan Bake in a water bath at 325°F When fully done, allow to cool to room temperature then refrigerate.
STEP 4 Banana Butterscotch: (Optional)
4 Tbsp Butter
1 cup Muscovado sugar
¼ cup Bananas sliced ¼"
¼ cup Heavy cream
1 Tbsp Vanilla
Melt the butter with the brown sugar Add banana slices Without stirring, let the mixture cook at a bubbling simmer for three minutes. Remove from heat and stir in the cream. Simmer until bubbly, remove from heat Let cool a bit, then stir in the vanilla extract. Serve warm over your favorite ice cream or dessert. The Butterscotch may be cooled and held until needed. Reheat as desired.
During our live national broadcast of RMWorldTravel with Robert & Mary Carey and Rudy Maxa on 13 June 2020, Chef Brad Barnes joined us to discuss his assessment of the hospitality and restaurant industries both currently and moving forward, some of his travels, and of course a favorite recipe the country can make at home.  To hear the exclusive interview that aired across our 415+ radio affiliates nationwide, simply click the play arrow below to access the now archived audio of our live broadcast …
And here's the recipe that Chef Brad Barnes shared with us for his Jamaican Jerk Marinade …
Jamaican Jerk Marinade
By Brad Barnes, Culinary Institute of America
YOU'LL NEED
1.5 pounds large onions, peeled and chopped
2 scallions rough cut
1 head garlic cloves, peeled and chopped
3 tablespoons of fresh thyme, chopped
5 Scotch Bonnet Peppers, deseeded and chopped
2 tablespoons allspice, berries
8 ounces soy sauce
16 ounces corn oil
4 tablespoons brown sugar
1 tablespoon kosher salt
2.5 cups white vinegar

MAKE IT
Place all ingredients into blender, puree until smooth
ENJOY!