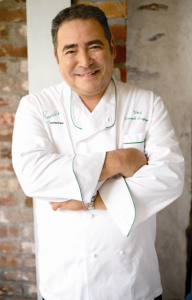 Emeril Lagasse, Chef, TV Host, Author, Celebrity
Amazon Prime TV – "Eat The World with Emeril Lagasse"
https://www.amazon.com/Eat-World-Emeril-Lagasse-Season/dp/B01HFR71RA
For many, Emeril Lagasse is America's favorite celebrity chef.  Just hearing his expressions "BAM!" or "Kick it Up A Notch"  makes you immediately think Emeril.  On our 12 January 2019 live broadcast of RMWorldTravel, Emeril joined us to "Kick it Up a Notch" as we talked travel, food, culture, the upcoming Mardis Gras celebrations in New Orleans and more.
Emeril also has a travel and food themed TV show on Amazon Prime that we'd encourage you checking out if you haven't already seen it, as he explores the world with other top celebrity chefs to discover popular foods and traditions.
To hear an archive of the full interview, click the play button immediately below this text.