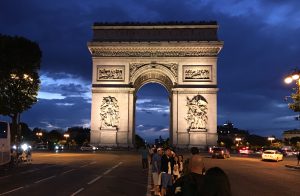 France makes a lot of money from tourism.  Usually.  But it's been a rough year so far.  Blame it on terrorism in Paris and Nice.  Inopportune airline and other strikes.  The weakening of the British pound following the Brexit vote that makes it more expensive for Brits to cross the Channel on holiday.
How badly has French tourism been hit?  A few weeks ago, the junior minister for French tourism said Paris hotels had an occupancy rate of only 32 percent in the second half of July.  That compares to 77 percent occupancy during the same time the previous year.
That's a huge spread, so France is launching a multi-euro promotion to try to bring visitors back.
Would you go there now? 
I would.  If I didn't go to places that endured terrorist attacks, I'd never go to New York City, Oklahoma City, London, Tokyo, or Thailand. 
Consider this: More than 100 people are killed every day in the US in car crashes. By that measure, none of us should ever get in a car again.  But, of course, we do. 
It's not about the terrorists winning if we don't travel.  It's about us losing out if we don't travel.