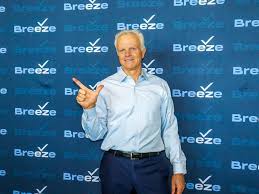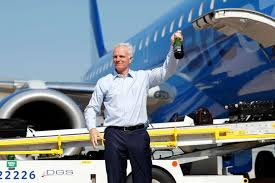 David Neeleman, Founder & CEO
Breeze Airways
www.FlyBreeze.com
David Neeleman clearly has a passion for the travel world, particularly the airline sector.  After his many successes in the industry with Morris Air, WestJet, JetBlue Airways and Azul, you could understand if he now opted to enjoy life in a more leisurely way.  But that's not who David Neeleman is, instead he's now running his 5th start-up airline — Breeze Airways!
Roughly two years have passed since we last connected with David on-air, and with the summer travel season here combined with the continued impressive growth and expansion of Breeze Airways, we invited him back for our live national broadcast of America's #1 Travel Radio Show on 15 July 2023.  During this latest "Chief Travel Leader" conversation David was candid and upbeat about where the continued evolution of Breeze Airways stands currently, we discussed the Airbus A220 aircraft that Breeze has made a major commitment to, got his thoughts on the airline sector of travel, and also talked about where there challenges are anytime an airline enters a new market with new service.
To hear the honest conversation that was broadcast across the USA via our now 525 weekly stations airing RMWorldTravel with Robert & Mary Carey and Rudy Maxa, just click on the play arrow immediately following this text…
_________________________________________
During our live broadcast of America's #1 Travel Radio Show on 21 August 2021 — for the latest installment of our popular "Chief Travel Leader" series, we caught-up with David and discussed his entrepreneurial beginnings, some of the successes he's enjoyed during his career with his past airline start-ups, what led to him create Breeze — and now that they're operational in 16 cities, with fresh funding just secured — what's ahead for the airline…
To hear the full conversation that aired across our national radio network of now 480+ weekly stations broadcasting RMWorldTravel with Robert & Mary Carey and Rudy Maxa, simply click the play arrow below to access the archived audio …