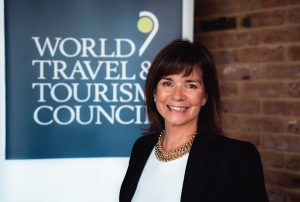 Julia Simpson, Chief Executive Officer
World Travel & Tourism Council
www.WTTC.org
Over the years our show fans have heard us routinely connect with David Scowsill and then Gloria Guevara Manzo when they headed-up the World Travel & Tourism Council.  Change came to the WTTC this year back in August, when Julia Simpson took on the CEO role with the organization after a successful career with British Airways and other leading world airlines.
The pandemic has had such a major impact on the world of travel, reducing its global economics by nearly 50% — a concerning total to us all!  As the calendar will soon turn to a new year, and with a look towards the future — we thought it was time to connect with Julia to hear straight from her about some of the things the WTTC is doing to help and support the numerous sectors of the travel industry — along with current news, trends and data that they're seeing as we approach 2022 and beyond.
To hear the full interview that aired across our national network of now 480+ weekly affiliates aligned with RMWorldTravel with Robert & Mary Carey and Rudy Maxa, during the live broadcast of America's #1 Travel Radio Show on 6 November 2021 as part of our "Chief Travel Leader" series — simply click on the play arrow that follows this text.