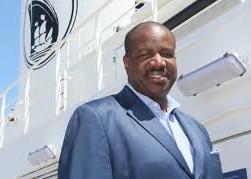 Orlando Ashford, President
Holland America Line
www.HollandAmerica.com
In a few short years, Holland America Line will celebrate 150 years of operations.  Few companies reach such a milestone — and some might say that the best days for this popular ocean cruise company are still to come.  They currently feature 14 midsize ships that carry between 800 to 2500 passengers — visiting over 400 ports of call, 100 different countries on all 7 continents.  Alaska and Holland America are often linked you think ocean cruising, but they also offer travel to many destinations including the Mexican Riviera, Panama Canal, Europe and more.  And many people consider them to offer the best live music at sea, in addition to an array of outstanding dining choices and well-run excursions.  Holland America Line is part of the Carnival Corporation family, and on our 7 September 2019 live broadcast of RMWorldTravel, their President Orlando Ashford joined Robert & Mary to discuss what makes this cruise line stand-out from others, what he enjoys about their operations and how they're now offering something extra to passengers who travel with them in Alaska.  You can listen to an archive of the full interview that aired across our national network of 410+ affiliates here, by simply clicking the play button immediately below this text.