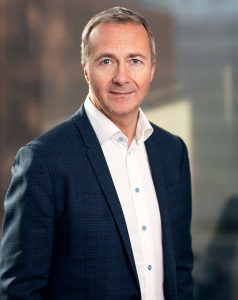 Paul Abbott, CEO
American Express Global Business Travel
www.AMEXGlobalBusinessTravel.com
Because of all the various travel products and services offered by American Express Global Business Travel, they have a simple suggestion — "Don't Do Business Without It!"  Paul Abbott has over a 25 year history with American Express since joining them from British Airways back in 1995, and has served as American Express Global Business Travel's CEO since September 2019.
We all know the Coronavirus has significantly upended business travel and other forms of travel, and with vaccination challenges developing an extended period of disruption is certain before a recovery can get fully underway.  Paul and his team are working to help their partners, affiliated companies and others navigate current conditions and be best positioned to come back strong.  They've also just expanded their own company with the acquisition of Ovation Travel.
During our live broadcast of America's #1 Travel Radio Show on 30 January 2021, Paul joined us for our exclusive "Chief Travel Leader" segment and you can hear the full conversation, that aired nationally via the 465+ weekly radio affiliates broadcasting RMWorldTravel with Robert & Mary Carey and Rudy Maxa, by simply clicking the play arrow below to access the now archived audio …