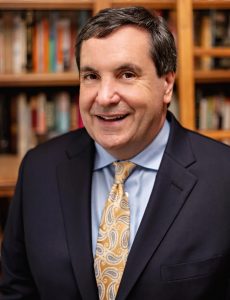 Richard Aboulafia, Vice President/Analysis at Teal Group and Aviation Week Contributor
www.RichardAboulafia.com
Frequently cited as an aviation industry authority by trade and news publications, Richard is Vice President of Analysis at Teal Group.  He manages consulting projects in the commercial and military aircraft field and analyzes broader defense and aerospace trends.  He advises numerous aerospace companies, including most prime and many second and third-tier contractors in the US, Europe and Asia.  He also advises numerous financial institutions on aerospace market conditions.
During Stop #5 of RMWorldTravel's special "Let's Go America! Tour" on 11 September 2021, as the program broadcasted live from Washington, DC at the Four Seasons Hotel — we invited Show Friend Richard Aboulafia to join us live on-set to discuss current airline and aviation happenings, get his thoughts on changes the industry has seen since 9/11 and we also engaged over other topics as well.  You can now hear the full interview that aired across our national network of now 480+ weekly stations, by clicking on the play arrow that follows this text …
Here are some of our past interviews with Richard as well …
As the Coronavirus has caused havoc across the aviation sector of the travel world, during our live national broadcast of RMWorldTravel, Richard returned to the program with Robert & Mary to discuss a variety of important topics involving the current state of the commercial airlines and manufacturing, offer thoughts on what's ahead as well as some expectations and trends that he's seeing in multiple sectors of the industry.  To hear the full interview that aired across our 415+ affiliates nationwide that air America's #1 Travel Radio Show, simply click the play arrow immediately below this text …
As we're in the final stages of 2019, we decided to check-in with Show Friend Richard Aboulafia for a "State of the Airline World" update form him.  And on our live national broadcast of RMWorldTravel with Robert & Mary Carey and Rudy Maxa on 14 December 2019, as we kicked-off Hour 2 of the program, Richard joined us to discuss realistic dates for the return of the Boeing 737 MAX, provide a status of the Boeing 777X, news from Airbus and more.  Now that program has been broadcast out to all of our network affiliates across the USA, you can hear the interview again via this archive simply by clicking below this summary.
Connecting with us live from Paris, Show Friend Richard Aboulafia returned during our live broadcast on 22 June 2019 with news from the Paris Air Show, insights on the Boeing 737 MAX, critical comments towards U.S. airlines from Qatar Airways CEO, manufacturing growth and diversity at Airbus, the proposed merger between United Technologies and Raytheon and more.  To hear the exclusive interview that aired across RMWorldTravel's national network and is now archived for you here, simply click the play arrow below this text …
During our live broadcast of America's #1 Travel Radio Show on 16 March 2019, Richard was back to discuss thoughts on the Boeing 737 MAX situation, and then we transitioned the conversation into a larger discussion about the end of the jumbo jet age, what's caused it and the prospects for the future of aviation with large planes.  You can hear the full interview now archived here …
For his 3rd appearance with Robert & Mary on RMWorldTravel, during our live broadcast on 29 September 2018, Richard weighed-in on a number of aviation happenings including an update on the Boeing/Embraer acquisition, progress with the Airbus A220, the decision by airlines to begin investing again in in-flight meals, the challenges facing low-cost international carriers flying to the U.S., and government threats to crack down on unreasonable airline fees.  You can access this diverse interview here …
Richard is becoming a more frequent guest on RMWorldTravel, and we all enjoy his industry knowledge and insight.  Back on our 14 July 2018 broadcast he joined Robert & Mary to discuss the Boeing/Embraer tie-up and it's impact on the industry, as he was en route to the Farnsbourough Air Show.  You can find that interview under the archived podcasts section of our website.
The modern jetliner has had profound impact on the way we travel, and Boeing has certainly been a leader in designing and manufacturing the planes that shape the way we travel.  Three particular Boeing jetliners have had great influence on our travels, the Boeing 707, Boeing 747 and Boeing 787.  Richard joined Robert & Mary on our 4 November 2017 live broadcast to discuss these 3 pioneering aircraft, as well as other designs that are currently in the works ….