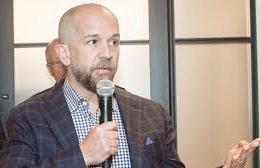 J.D. O'Hara, Chief Executive Officer
Internova Travel Group
www.Internova.com
After 50 acquisitions or so in recent years and a formal name change from Travel Leaders Group to Internova Travel Group, the firm has become one of the largest global travel services companies with a collection of leading travel brands that focus on both leisure and business travelers.  Some of their brands include — Nexion Travel Group, Tzell Travel Group, Roadtrips, Andrew Harper Travel, Protravel International, Cruise Specialists, ALTOUR, Travel Leaders Network, Bonotel Exclusive Travel and more.
It's been 27 months since we last connected with Internova's CEO J.D. O'Hara, and with all that the world of travel has experienced during this period we felt it was time to change that.  So for our live broadcast of America's #1 Travel Radio Show on 15 October 2022, we reconnected with him via the Show Hotline for a candid and informative "Chief Travel Leader" conversation.  To hear the exchange that aired across our national network of now 495+ weekly affiliates linked with RMWorldTravel with Robert & Mary Carey and Rudy Maxa, simply click on the play arrow immediately following this text…
_______________________________________________
The Coronavirus pandemic has certainly upended the world of travel as we've been regularly covering for more than four months now, and to get a report on how Internova is navigating the current challenges and also learn what they're envisioning for the future — we invited their CEO J.D. O'Hara to join us for a candid conversation on our 25 July 2020 live broadcast.
To hear the full conversation that aired during the "Chief Travel Leader" series of our show via the 420+ weekly affiliates nationwide broadcasting RMWorldTravel with Robert & Mary Carey and Rudy Maxa, simply click the play arrow below to access the now archived audio …