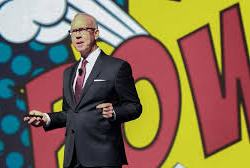 Terry Dale, Chief Executive Officer
U.S. Tour Operators Association
www.USTOA.com
Airlines, hotels, ground transportation, tour guides, travel agents, CVB's — they're all integral to the success of tour operators and the many excursions and experiences they provide to travelers.  Tour operators have worked hard to rebound from the pandemic by expanded their offerings to meet the needs and preferences of travelers.  As the leading voice for the tour operator industry, the United States Tour Operators Association and its members have worked hard for 50 years to engage all travelers.
USTOA's CEO is Terry Dale and he's certainly become a trusted Show Friend who we enjoy as he speaks candidly with first-hand knowledge.
During our live national broadcast of America's #1 Travel Radio Show on 6 May 2023, for our special "Chief Travel Leader" conversation we reconnected with Terry to get a real-time read on the current happenings involving USTOA and its members, we discussed the troubling trend we're seeing in the World of Travel as it operates more transactionally rather than relationship focused, we also talked hot summer destinations and more.  To hear the full interview that aired across our now 515+ weekly stations nationwide airing RMWorldTravel with Robert & Mary Carey and Rudy Maxa, simply click on the play arrow immediately following this text…
____________________________________
During our live RMWorldTravel broadcast on 19 March 2022, we invited Terry Dale back to share current happenings and expectations as the Spring and Summer travel seasons unfold, as well as offer some personal observations on the State of the Industry.  If you missed this informative conversation on America's #1 Travel Radio Show, heard across the nation live via our 480+ weekly stations, you can access it here now by clicking on the play arrow immediately following this text …
____________________________________
Since March of 2020 here in America, tour operators — like all sectors of travel — have been hit hard as cancelations and postponements replaced planned trips.  But things are improving…
As we continue to cover all areas of travel to keep our 1 Million+ show fans and followers updated with the most current information available — during our live broadcast on 8 May 2021, we felt it was time for a check-in with Terry Dale, the CEO of the U.S. Tour Operators Association to get an real-time report on current happening in the World of Travel that USTOA members are seeing, hearing and experiencing — and what they're expecting in the weeks and months ahead.  To hear the full interview that aired across the nation on our now 470+ weekly RMWorldTravel with Robert & Mary Carey and Rudy Maxa affiliates, simply click on the play arrow immediately following this text…
____________________________________
It's been over 6 months since the pandemic shutdowns altered our daily way of life, and for the travel world it's been a period of major upheaval — mixed with some bright spots here and there.  The U.S. Tour Operators Association certainly has their pulse on what's happening and what's not, and as a follow-up to our previous conversation with him — almost 4 months ago to the day — we reconnected with Terry Dale, CEO of USTOA to get an update on ongoing adjustments by the industry to rebuild relationships with travelers and nurture confidence, expectations for the months ahead and more.  You can hear the complete conversation that aired across the 440+ weekly affiliates of America's #1 Travel Radio, by simply clicking on the play arrow immediately following this text…
____________________________________
We invited the CEO of the U.S. Tour Operators Association — Terry Dale, to join us for a candid conversation during our exclusive "Chief Travel Leader" interview as part of our  20 June 2020 live broadcast, and to access the discussion that aired across the 415+ affiliates airing RMWorldTravel with Robert & Mary Carey and Rudy Maxa across the USA, just click the play arrow below to access the now archived audio…