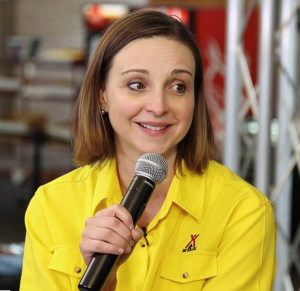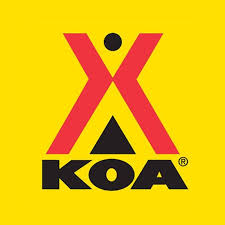 Toby O'Rourke, Chief Executive Officer
Kampgrounds of America
www.KOA.com
If you're a camper, or are considering becoming one — the familiar Yellow Sign of Kampgrounds of America, or KOA is a welcome sight for many.  Whether you're seeking some fun adventures, are looking to create a base camp or outdoor recreation is your thing — with more than 520 locations nationwide, KOA has you covered.  In fact, it's been the core of their business now since 1962.  And KOA isn't just for tent campers, RV'ers or those pulling their trailers — as they also offer a variety of Deluxe Cabins with kitchens, bathrooms and more, plus Glamping Tents, yurts, etc.
20 months have passed since our last on-air conversation with KOA's CEO Toby O'Rourke, and certainly the camping sector of travel has experienced strong growth during this time — and it's partly why we knew it was time to invite her back for our popular "Chief Travel Leader" conversation.  During our live broadcast of America's #1 Travel Radio Show on 11 March 2023, as she always does, Toby was again candid with us while sharing positive results and expectations for both KOA and her sector of travel.  She also got a little personal when offering tips to help make your own camping and outdoor travels a success.  To hear the full interview that aired across the USA via our now 510+ weekly stations that air RMWorldTravel with Robert & Mary Carey and Rudy Maxa, just click on the play arrow immediately following this text to access the archive …
____________________________________
During our live broadcast of America's #1 Travel Radio Show on Saturday, 17 July 2021 — we decided to reconnect with KOA CEO Toby O'Rourke to check-in on their current operations, get her thoughts on the significant growth in camping, RV's and the outdoors lifestyle — as well as hear first hand how they're grappling with the ongoing labor shortages, vaccinations and more.  To listen to the full interview that aired across our national network of now 480+ weekly radio stations airing RMWorldTravel with Robert & Mary Carey and Rudy Maxa, just click on the play arrow immediately following this text to access the archive …
____________________________________
As the Coronavirus Pandemic has upended the travel and hospitality industries, in the "upside down world" where social distancing is essential — we've been saying for many weeks now on America's #1 Travel Radio Show that RV'ing, camping and enjoying the outdoors is perhaps the best way to travel this summer and fall.  And that's exactly why we invited the CEO of KOA, Toby O'Rourke, to join us for our exclusive "Chief Travel Leader" series to discuss this and more.  To hear the full conversation that aired across the 415+ affiliates nationwide airing RMWorldTravel with Robert & Mary Carey and Rudy Maxa on May 9th 2020, simply click the play arrow below to access the now archived audio from  …