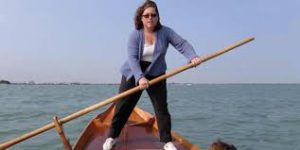 Carolyn Spencer Brown, Chief Content Officer
Cruise Media, LLC
www.CarolynSpencerBrown.com
In the course of a week, the travel world here in America as well as many aspects of our society turned upside down.  As some cruise lines began cancelling voyages, President Trump stepped in and asked all cruise line operators to postpone all departures for weeks to help combat the spreading pandemic.  Since there's no one we believe who has a better handle on the cruise world than Show Friend Carolyn Spencer Brown, we asked her to join us for an update and to get her thoughts on what's ahead in the world of cruising — be it ocean or river cruising.  You can now hear again the full interview that aired across our national network of 415+ weekly affiliates on 14 March 2020 simply by clicking the play arrow below this text.
As "Wave Season" is underway, who better to reconnect with than Show Friend Carolyn Spencer Brown.  She recently left her long-time position with Cruise Critic to venture out on her own, and we couldn't be happier for her.  If cruising is your thing, or if it intrigues you, there's no one better informed on the industry and all the specifics than Carolyn.  She's personally cruised more than 300 times, and for our first live broadcast of 2020, Carolyn joined us to talk river cruising, share a little about her new career path, Alaska cruising, her personal cruise travels and antidotes, thoughts on 2020 cruising and more.  You can hear the full interview that aired across our network of 410+ affiliates nationwide on 11 January 2020 here …
On our 15 June 2019 live broadcast, Carolyn returned to America's #1 Travel Radio Show for our "Chief Travel Leader" episode to discuss an array of cruise topics including her thoughts on the 2019 season so far, new ships ahead, experiences with Seabourn, her satisfaction with Ocean Medallion on Princess, Alaska cruising and more.
On our 5 January 2019 live broadcast of RMWorldTravel, to kick off-our our 2019 broadcast year, Carolyn returned to the show to talk about her favorite subject, share thoughts on what's ahead for the new year, and more.  You can access that interview by clicking on the play arrow below …