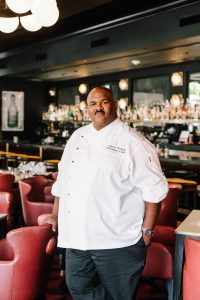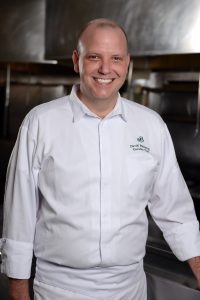 Executive Chef Travis Watson, The Hotel Californian
Executive Chef David Patterson, The Broadmoor
Preferred Hotels & Resorts
www.PreferredHotels.com
It's International Pineapple Week — and as frequent travelers know the Pineapple is the sign for hospitality.  Since many successful trips often involve fun and enjoyable food experiences, we thought in recognition of International Pineapple Week, for our latest installment of "Travel The World From Your Own Kitchen" we'd invite some top chefs to join us and share a recipe from their popular hotel/resort, that our show fans and followers could make for Father's Day, upcoming July 4th celebrations or anytime!
And during our live national broadcast of RMWorldTravel with Robert & Mary Carey and Rudy Maxa on 20 June 2020, Executive Chef Travis Watson from The Hotel Californian, and Executive Chef David Patterson from The Broadmoor joined us to discuss the current operations at their top-notch properties, share thoughts about operating during the pandemic, and also serve-up a delicious recipe from their respective restaurants for everyone across America to enjoy.
To hear the exclusive interview that aired across our 415+ radio affiliates nationwide airing America's #1 Travel Radio Show, simply click the play arrow below to access the now archived audio of our live broadcast  …
}  Bacon Wrapped Pork Tenderloin with Butterscotch Braised Apples and Sweet Corn Relish
By Executive Chef Travis Watson, The Hotel Californian
YOU'LL NEED
8 oz pork tenderloin
8-10 slices of bacon
White pepper to taste
MAKE IT
Lay out a 24 inch length of plastic wrap. Shingle the bacon on top of the plastic with just a small bit of overlap to each piece of bacon. Season the pork tenderloin with white pepper (salt isn't needed because of the saltiness of the bacon) and lay 1 inch from the bottom of the bacon slices. Use the plastic wrap to help wrap the pork tenderloin with the bacon. Once the pork is wrapped, roll the bacon wrapped pork in the plastic wrap to make it as tight as possible. Refrigerate overnight. To cook; in a warm pan large enough to fit the tenderloin, heat on medium. Sear the pork on the seam side first, and then slowly cook the tenderloin on all side until bacon is crispy and delicious. When the bacon is crispy, the pork tenderloin will be about medium. If you like your pork cooked through, put the pork in a pre-heated 350 degree oven until desired doneness is achieved. Allow the pork to rest for 8-10 minutes.
Butterscotch Braised Apples
4 large baking apples (Granny Smith work well) – peeled and diced
¼ cup butter
1 teaspoon salt
¼ cup brown sugar
2 tablespoons crème fraiche
MAKE IT
In a large sauté pan, heat butter over medium high heat. One butter is melted and has not changed color, add apples and sauté for 5 minutes. Add brown sugar and salt. Cook until the brown sugar has melted and begins to look like an amber caramel. (about 3-6 minutes) Turn off heat and add the crème fraiche. Stir in the crème fraiche to make a homogenous mixture.

Sweet Corn Relish
4 ears of sweet corn – kernels cut off
1 cup fresh edamame
1 shallot – minced
1 clove garlic – minced
2 tablespoons grapeseed oil
1 small roasted red pepper – diced
Salt and pepper to taste
MAKE IT
In a medium sauté pan, over medium high heat, add 2 tablespoons of grapeseed oil. Add the first four ingredients and cook until the edamame is tender. Add the roasted red bell peppers. Season with salt and pepper.
*   *   *   *   *   *   *   *   *   *   *   *   *   *   *   *
}  Yukon Gold Potato Gnocchi
By Executive Chef David Patterson, The Broadmoor
YOU'LL NEED FOR GNOCCHI
1 pound Yukon Gold potatoes
2 cups all-purpose flour, divided
1 egg
Salt and Pepper to taste

YOU'LL NEED FOR DISH
1/2 cup Butternut Squash, peeled and cut into medium dice 
1/4 cups walnuts
3 tablespoons butter
1/2 shallot, brunoised
1 garlic clove, minced
4 leaves sage, chiffonade
1/2 cup dried cranberries
MAKE IT
1. Place unpeeled potatoes in a large pot. Fill the pot with enough cold water to cover the potatoes by at least 2 inches and bring to a simmer over medium-high heat. Reduce the heat to medium, partially cover the pot, and simmer the potatoes until they are completely tender and easily pierced with a skewer, 30 to 40 minutes.
2. Drain potatoes, let them cool just enough to handle, then peel. Cut potatoes in half crosswise and pass them through a ricer into a large bowl. Cool until almost at room temperature, at least 20 minutes.
3. Lightly flour a work surface. Place the riced potatoes unto the floured surface, spread potatoes until about ½ inch thick. Add egg to the top of the potatoes and then add about 1 ½ cups of flour. Sprinkle with salt and pepper. Using a bench knife, cut into the mixture until the flour is moistened and the dough begins to clump together; the dough will still be a bit crumbly at this point.
4. Gather the dough together a few times using the bench knife and press down to form a uniform mass. Do not mix with your hands as this will overwork the dough and make it tough. Make sure the surface you are mixing on always has a layer of flour to prevent sticking. Continue to cut in the flour until the mixture becomes a cohesive dough. It should still be light and fluffy. If overworked, the dough will feel dense and heavy. Cover it with a clean kitchen towel.
5. Lightly flour two large rimmed baking sheets. Remove any lingering bits of dough from your work surface and lightly re-flour the surface. Tear off a piece of dough about the size of a large lemon and put the towel back on the rest of the dough so it does not dry out. With the palms of both hands, roll the dough piece on the floured surface into a rope about ¾-inch in diameter.
6. With a sharp knife or a bench knife, cut the rope crosswise every ¾ inch to make roughly ¾-inch square gnocchi. Arrange the gnocchi in a single layer on the floured baking sheets, making sure they do not touch. Repeat until you run out of dough, reflouring the work surface as needed. When all the gnocchi have been cut and spread out on the baking sheets, sprinkle them with a little more flour. Do not refrigerate for more than two or three hours, as they tend to ooze water and become soggy.
FOR DISH
1. Preheat oven to 400°. Toss butternut squash with oil, salt, and pepper. Place on a baking pan and roast for
10 minutes, or until soft when pierced with a fork. The squash should have a bit of browning along the edges. Remove and let cool. Lower the oven temperature to 350°.
2. Place the walnuts on a baking sheet and toast at
350° for no longer than 5 minutes. Set aside.
3. Melt the butter in a large skillet over high heat.
Stir until the butter develops brown flecks and smells nutty. Watch it closely to keep the butter solids from burning. Remove from heat.
4. Bring a large pot of salted water to a boil. Add the gnocchi; wait until they float to the surface, then simmer another 30 seconds. (Taste one to make sure it has cooked through, if not simmer for another minute). Remove and set aside, toss with a little olive oil so they don't stick together.
5. In a hot skillet, add a dash of oil and sauté the shallots and garlic for about 30 seconds. Add the brown butter to the pan. Follow by adding the gnocchi and tossing until some of the brown-butter flecks stick to the gnocchi. Add the roasted butternut squash, walnuts, sage, and cranberries; toss again and let cook for a few minutes until garnishes are heated through. Remove from heat, season to taste, and serve.
ENJOY!