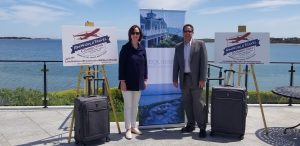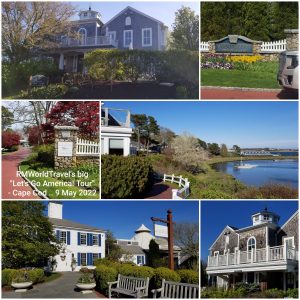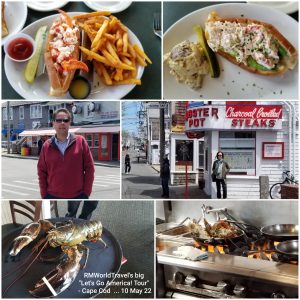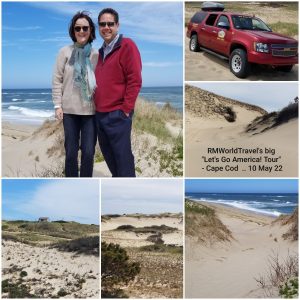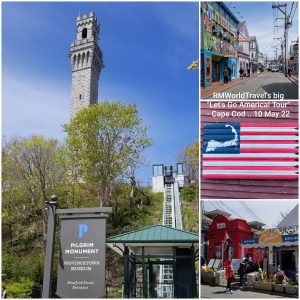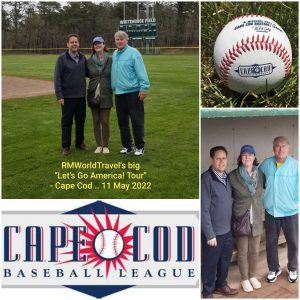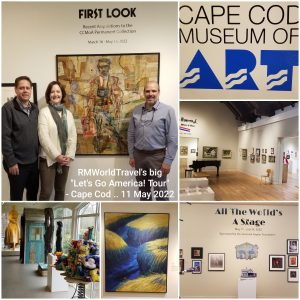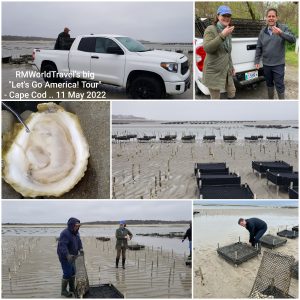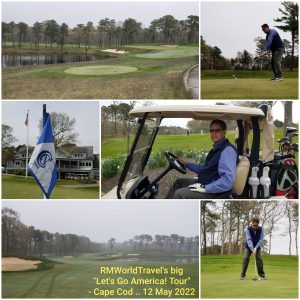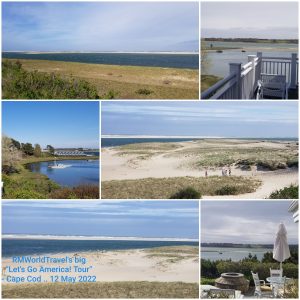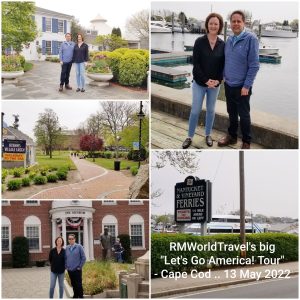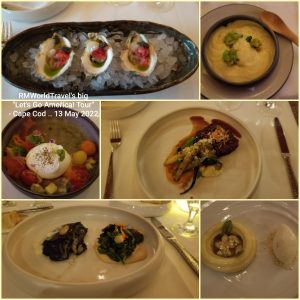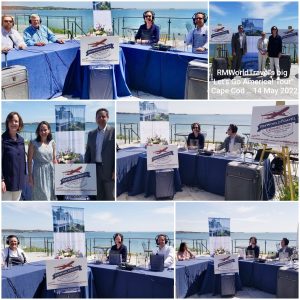 www.Wequassett.com
www.CapeCodChamber.org
For a detailed recap of our "Let's Go America! Tour" – Cape Cod, including a summary of the itinerary, live remote broadcast, multiple photos, some social media posts and sampling of comments from show fans – CLICK THIS LINK to access the .pdf!
Cape Cod is a unique area of America, that's steeped in history and is a vibrant destination for families, couples, multigenerational travel, weddings, corporate events and more.  From its vast 600 miles of coastline, the beaches of Cape Cod are some of the best you'll find anywhere.  And Cape Cod National Seashore Park covers nearly 44,000 acres with 40 miles of coastal beach-line across this hooked-shaped peninsula.  With 15 diverse towns and villages, you'll find a thriving arts and cultural scene, golfers will enjoy the nearly 50 varied courses, certainly boating and fishing are popular here — and for all our show fans who are foodies, fresh seafood is plentiful everywhere!
During RMWorldTravel's big "Let's Go America! Tour" – Cape Cod, we had a busy itinerary filled with many activities and excursions.  As we brought America along with us for this week of travels to The Cape, we visited many of the charming communities including Harwich, Chatham, Provincetown, Hyannis, Dennis, Barnstable, Brewster, Orleans, Sandwich and Wellfleet.  Along the way we experienced a dune tour across the impressive sandy dunes of the Cape Cod National Seashore, learned hands-on what it takes to successfully Oyster farm, we enjoyed the Cape Cod Museum of Art, engaged with the 137 year old Cape Cod Baseball League, golfed at Cape Cod National (a Top-20 course as rated by Golf Digest), spent time relaxing on invigorating beach walks — and of course our adventures included many culinary experiences too!  We based ourselves at the Forbes 5-star Wequassett Resort and Golf Club, and our tour culminated with a live remote broadcast of America's #1 Travel Radio Show from that location on Saturday, 14 May 2022 from 10a-12p ET.
To enjoy the live broadcast of RMWorldTravel with Robert & Mary Carey and Rudy Maxa again — that ran across our national network of 480+ weekly stations and featured a wide mix of things to do/experience on Cape Cod, simply click on the play arrows immediately below this text and enjoy!
Let's Go America!
14 May 2022 – RMWorldTravel | Let's Go America! Tour – Cape Cod @ Wequassett Resort and Golf Club
RMWT2220
Hour 1
— Topics & Guests on this hour of RMWorldTravel with Robert & Mary Carey and Rudy Maxa include:
Seg 1 – Robert & Mary and Rudy Show Open, Team Banter, "Let's Go America! Tour" – Cape Cod talk, Roundtable News and more
Seg 2 – Robert & Mary connect with Wequassett Resort and Golf Club's Director Kara LaChance, talking property specifics and life on Cape Cod
Seg 3 – We get wet and sandy as we go Oyster Farming with DennisOyster's John & Stephanie Lowell for a very different way to experience The Cape
Seg 4 – Cape Cod National Seashore Park's Sue Moynihan details the vast area with activities available to all travelers, its unique species, etc
Seg 5 – The things to do on-property at the Wequassett are aplenty, and Guest Relations Director Jamie McPhee joins us on-set to offer many details
Hour 2
— Topics & Guests on this hour of RMWorldTravel with Robert & Mary Carey and Rudy Maxa include:
Seg 1 – Robert & Mary and Rudy Show Open, plus Wequassett Resort's Executive Chef James Hackney talking culinary, sourcing and inspiration
Seg 2 – Ed Lambert, morning host at our Cape Cod affiliate FM 95.1 WXTK and Chamber CEO Paul Niedzwiecki share all things Cape Cod with America
Seg 3 – For 76 years now, Art's Dune Tours has been taking visitors across the dunes of the National Seashore Park, and we go for a ride with Rob Costa
Seg 4 – Cape Cod is a haven for artists, and top local art and sculptures are on full display at the Cape Cod Art Museum.  Its Director Benton Jones weighs-in
Seg 5 – The Cape Cod Baseball League is a 137 year old summer tradition, and we visit Whitehouse Field in Harwich to catch-up with John Garner