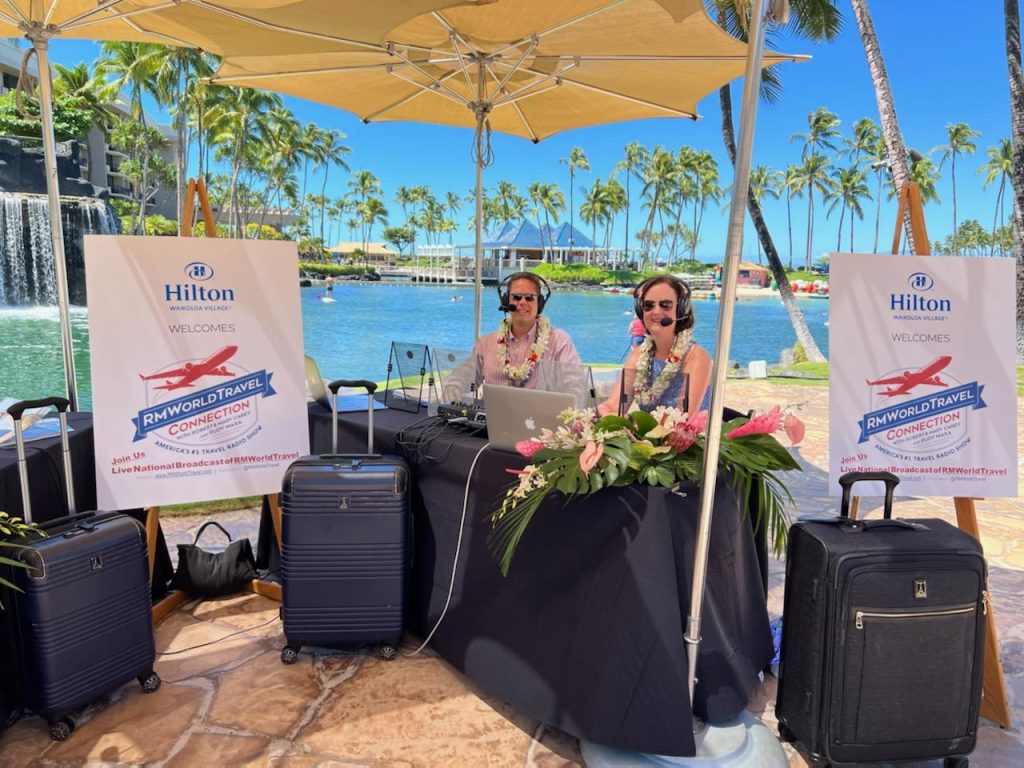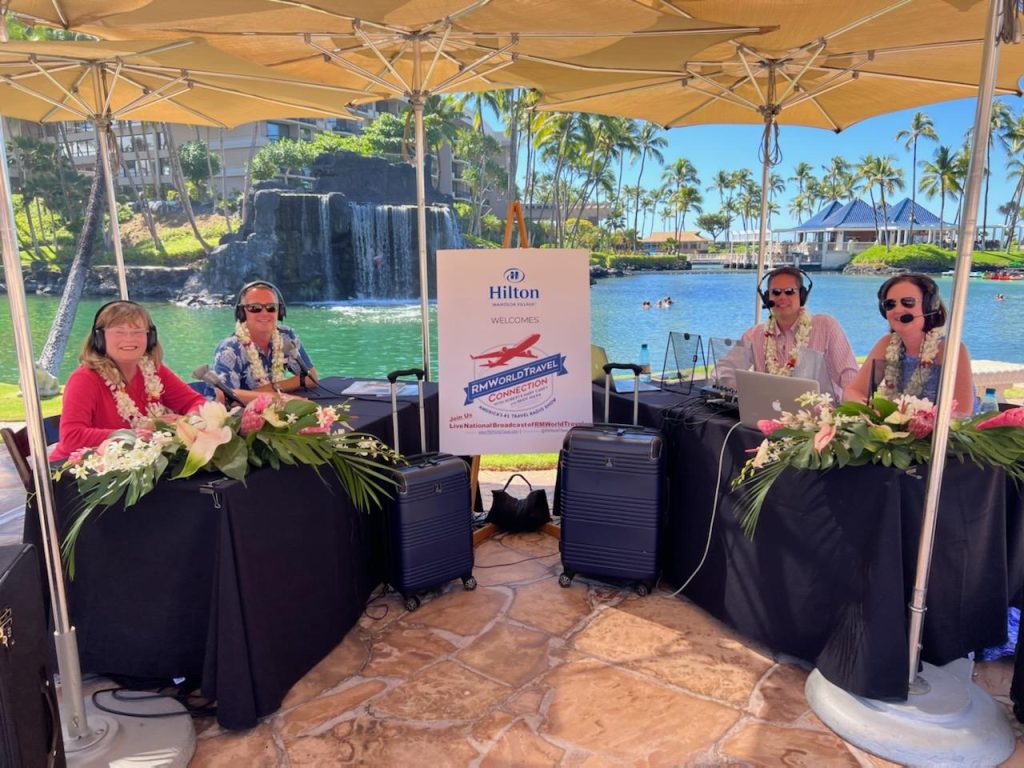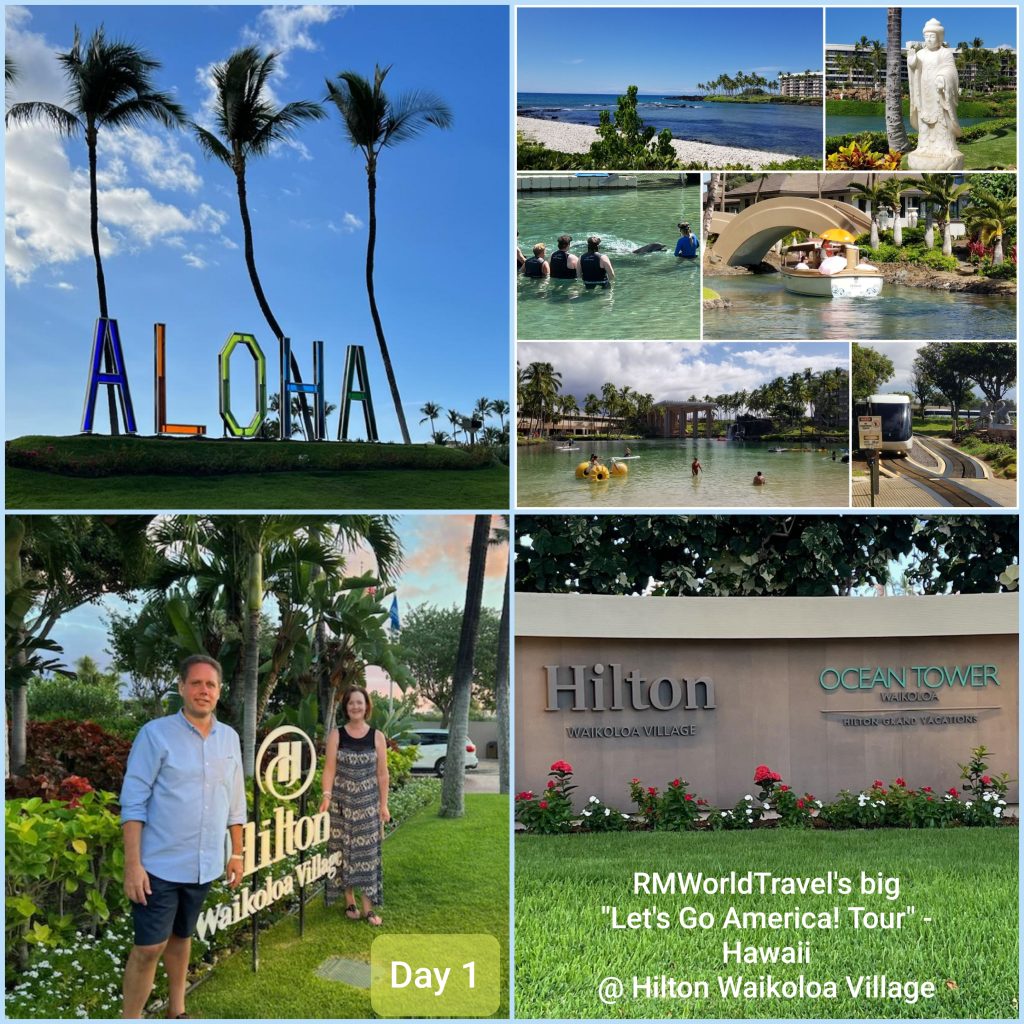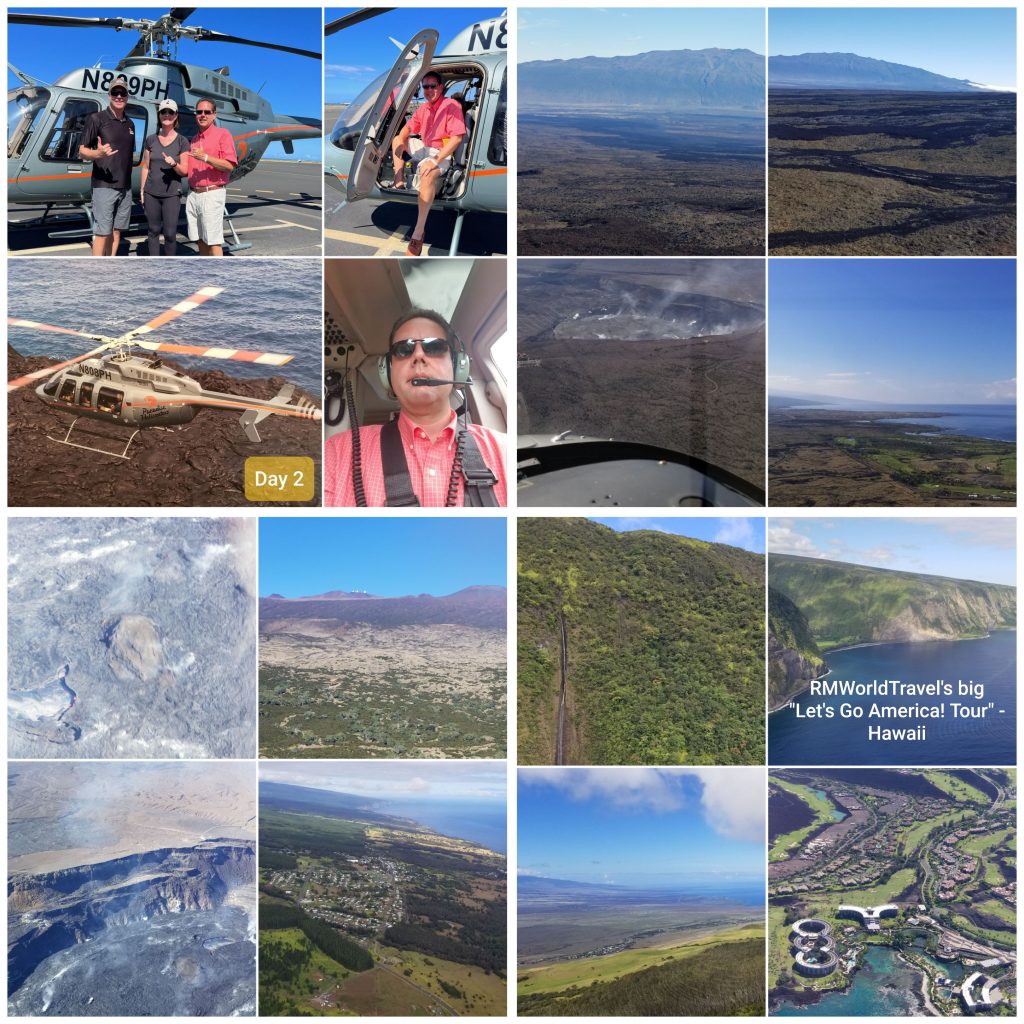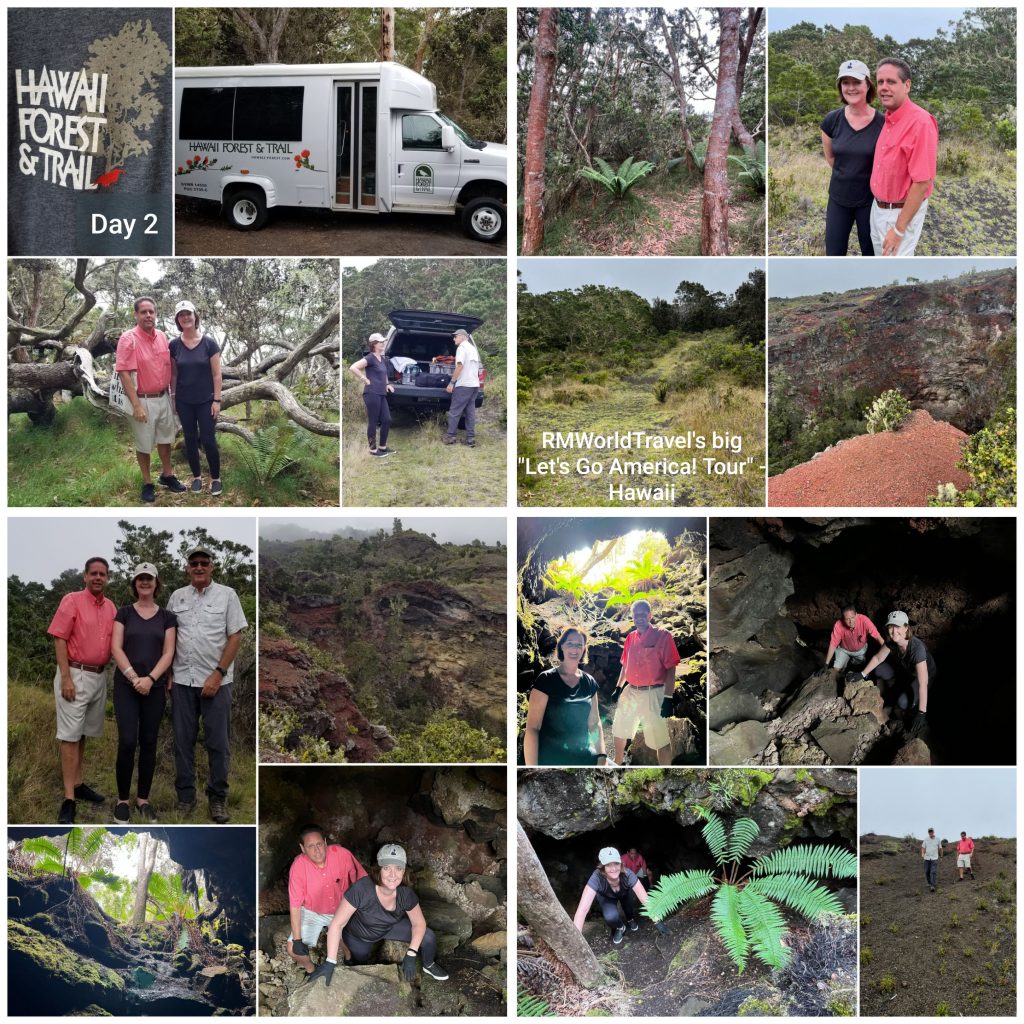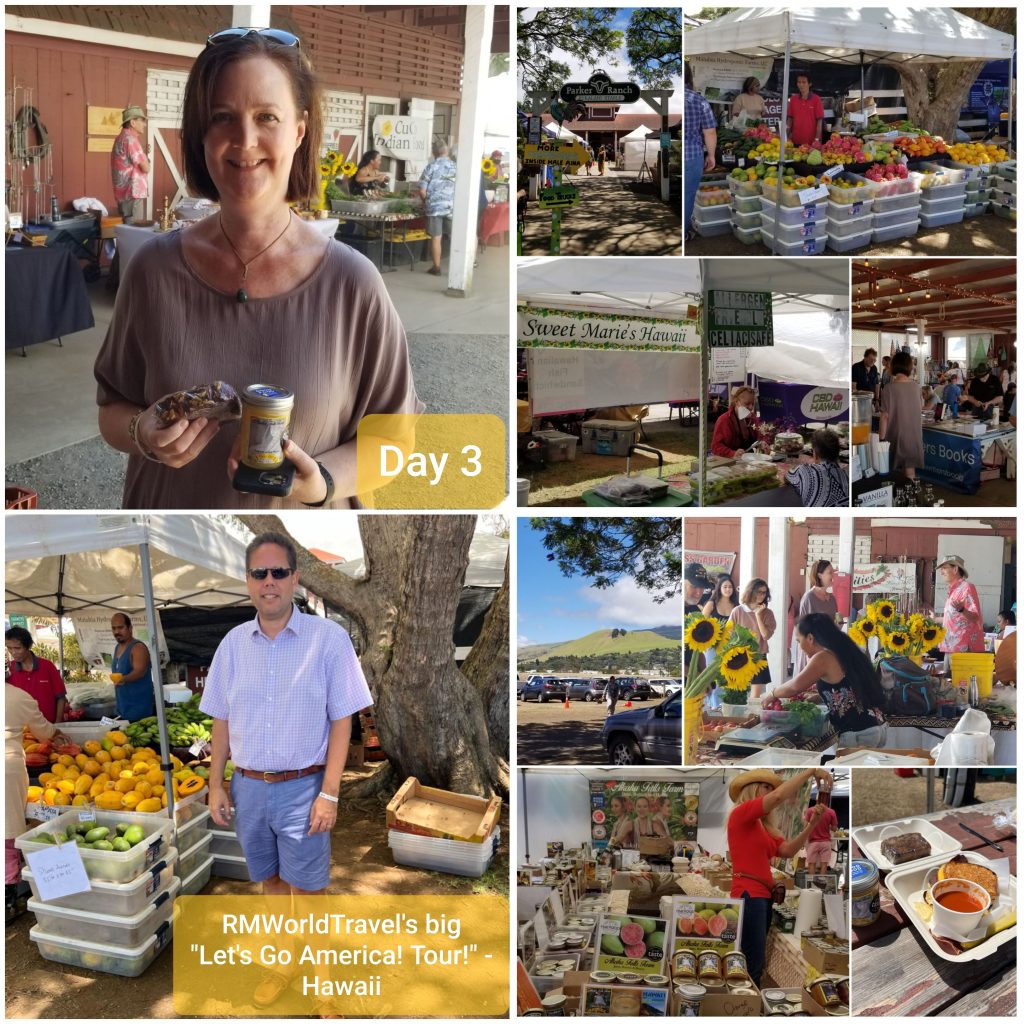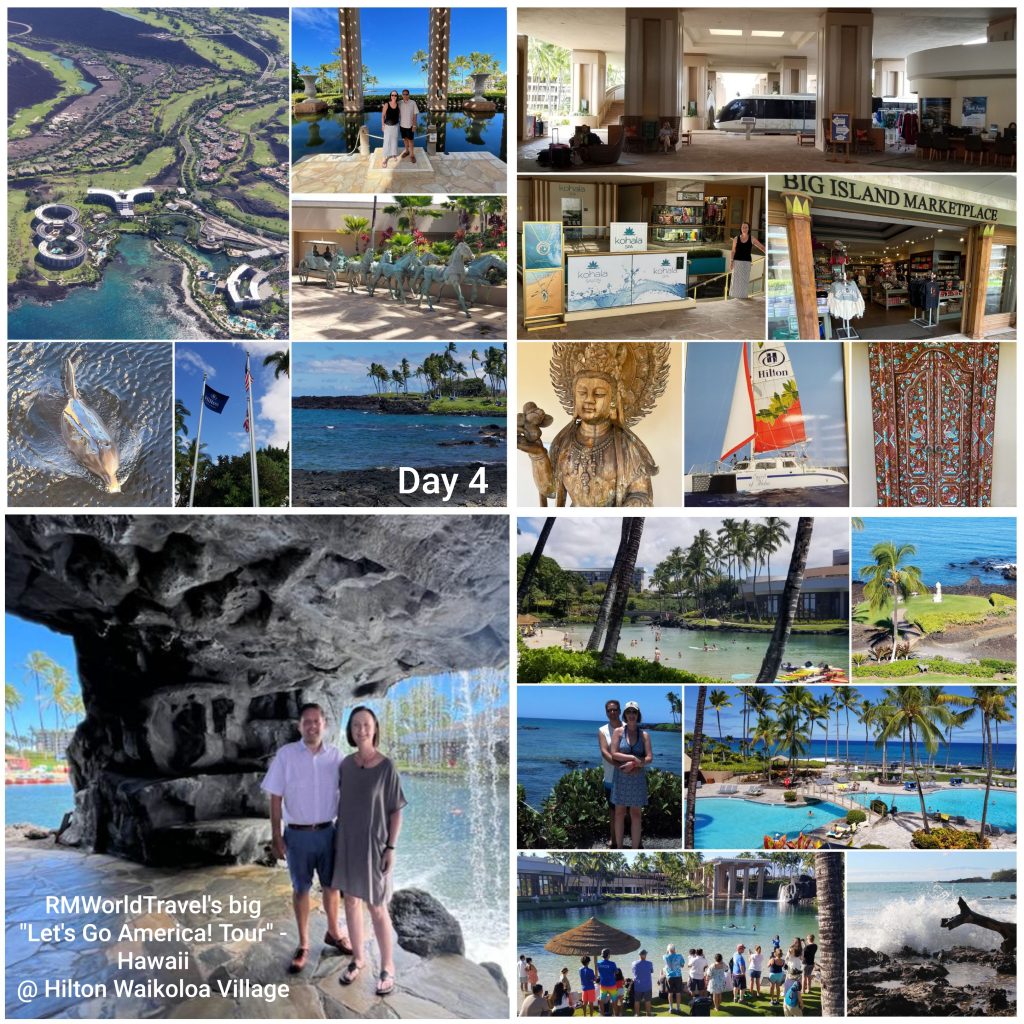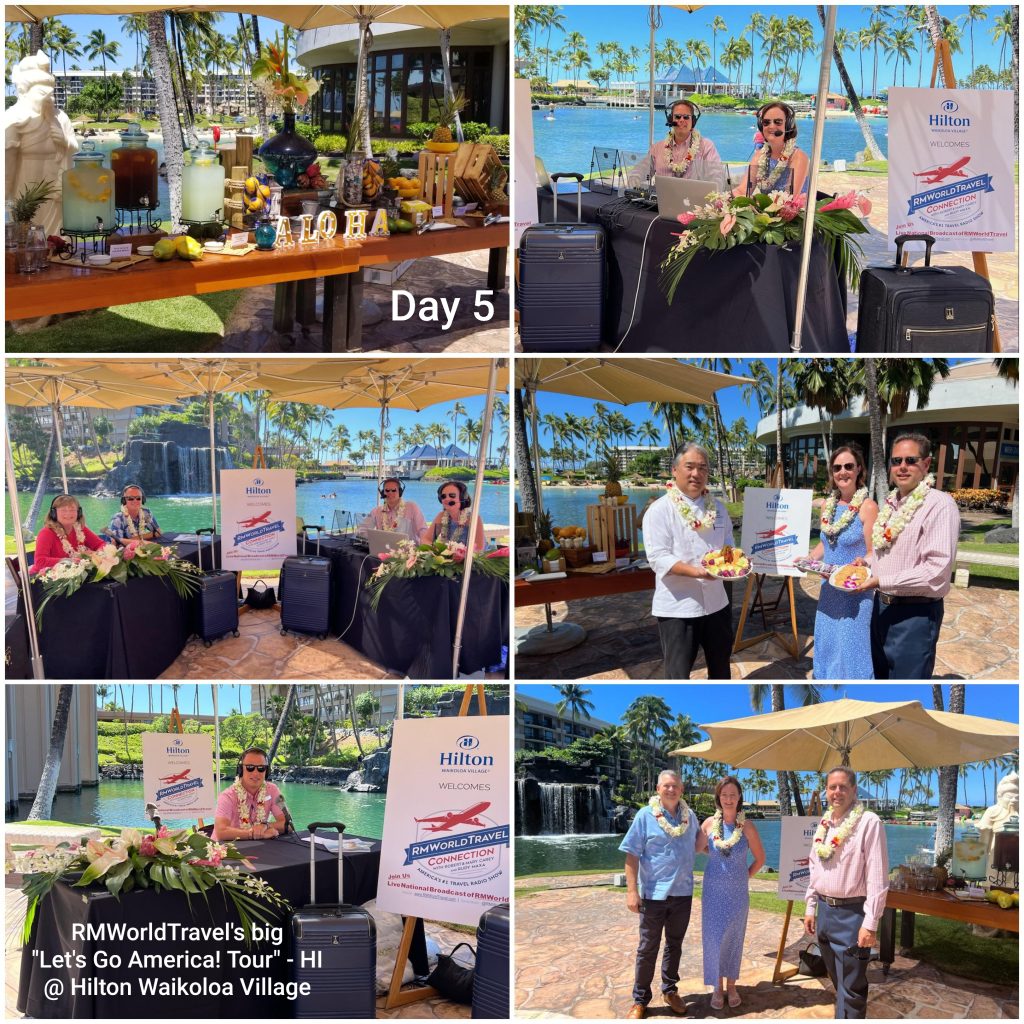 www.HiltonWaikoloaVillage.com
www.GoHawaii.com/Islands/Hawaii-Big-Island
For a full recap of our "Let's Go America! Tour" – Hawaii, including a summary of the daily itinerary, live remote broadcast, multiple photos, varied social media posts and a sampling of comments from show fans – CLICK THIS LINK to access the .pdf!
You haven't fully experienced Hawaii until you've experienced the Island of Hawaii (aka Big Island)!  That was our latest stop on RMWorldTravel's big "Let's Go America! Tour"…
It was our second visit to the Island of Hawaii, and seeing it without our kids provided a different perspective for us.  During our past visit, we explored the night skies atop Mauna Kea and toured Keck Observatory, we explored Volcanoes National Park, traveled to Hilo along Hawaii's Belt and Saddle Roads, visited the Ocean Rider Seahorse Farm, hiked areas of the vast lava fields and enjoyed the many activities on-property at the Hilton Waikoloa Village as a family.  Our return trip as part of RMWorldTravel's big "Let's Go America! Tour" – Hawaii 8 years later, was all about sharing the area with the nation via our 495+ weekly radio stations airing America's #1 Travel Radio Show, and experiencing it as a couple.  Once again it didn't disappoint!
During this return visit to the Hilton Waikoloa Village, we enjoyed the romantic dining at Kamuela Provision Company (or KPC) and another outstanding meal at Nui as well.  We took in daily dolphin encounters, relaxed at the Kohala Spa and the numerous on-property pools, walked the mile plus pathway repeatedly along the sprawling grounds, spent quiet time at serene Buddha Point, traveled via the tram system and admired the 1800+ pieces of art that cover the property.  About the only thing we didn't do on this trip was reserve time for a fun round of golf!  Traveling off-property took us airborne with Paradise Helicopters to appreciate the wide-ranging topography and diversity of the island, we hiked Volcanic Craters, visited a lush forest with native species and navigated our way underground through a lava cave and tubes.  Since agriculture is an important part of the island experience, we visited the Waimea Farmer's Market and made our way to the quaint town of Honokaa where we visited the oldest Macadamia Nut farm on Hawaii and also enjoyed their distinctive coffees that they ship nationwide.
Then came our live remote broadcast of America's #1 Travel Radio Show, concluding the 5-day itinerary and the setting couldn't have been more beautiful from the lanai overlooking the ocean fed lagoon and waterfall at the Hilton Waikoloa Village.
To hear the national radio broadcast of RMWorldTravel with Robert & Mary Carey and Rudy Maxa again — that ran across our network of 495+ weekly stations and featured many of our experiences both on and off property on the Island of Hawaii, simply click on the play arrows immediately below this text and enjoy!
Let's Go America!
_____________________________________________________________________
RMWT2240
Hour 1
— Topics & Guests on this hour of RMWorldTravel with Robert & Mary Carey and Rudy Maxa include:
Seg 1 – Robert & Mary and Rudy Show Open, Team Banter, "Let's Go America! Tour" – Hawaii talk, Roundtable News and more
Seg 2 – Ross Birch, Executive Director with the Island of Hawaii Visitors Bureau joins us on-set to talk activities, the diversity and "Big Island" life
Seg 3 – Getting airborne is a must to fully appreciate the beauty/uniqueness of the Island of Hawaii, so Paradise Helicopter pilot Darren Hamilton helps us do just that
Seg 4 – You won't find a better place for Sport Fishing than the Island of Hawaii, and Captain Al Gustavson with Goose's Edge shares the specifics
Seg 5 – Regardless of the type of travelers you are, you'll always find something to do at the Hilton Waikoloa Village and Matt Lane offers enticements
Hour 2
— Topics & Guests on this hour of RMWorldTravel with Robert & Mary Carey and Rudy Maxa include:
Seg 1 – Robert & Mary and Rudy Show Open, plus Hilton Waikoloa Village Executive Sous Chef Clayt Ohta talks food, culture and his inspirations
Seg 2 – Hilton Waikoloa Village leaders Debi Bishop & Simon Amos discuss their hospitality careers, managing the property, all that it offers guests and connections to Hawaii
Seg 3 – Hawaii Forest & Trail's Interpretive Guide Mateo Radosevich takes us hiking into Volcano Craters, underground lava tubes and private serene lands
Seg 4 – On the 1 year Anniversary of Mount Kilauea's latest eruption, we check-in with Volcanoes National Park's Jessica Ferracane for an update and more
Seg 5 – The Island of Hawaii is fertile ground for growing Coffee and Macadamia Nuts, and we enjoy a tasty visit to Ahualoa Farms with Matt Holmes