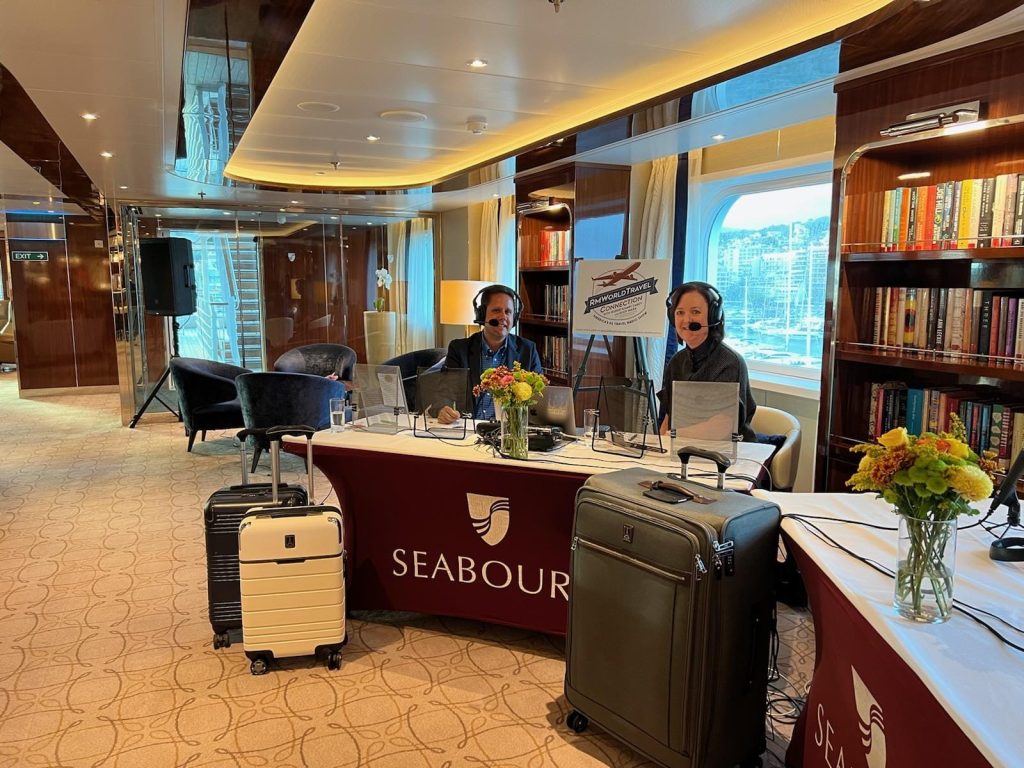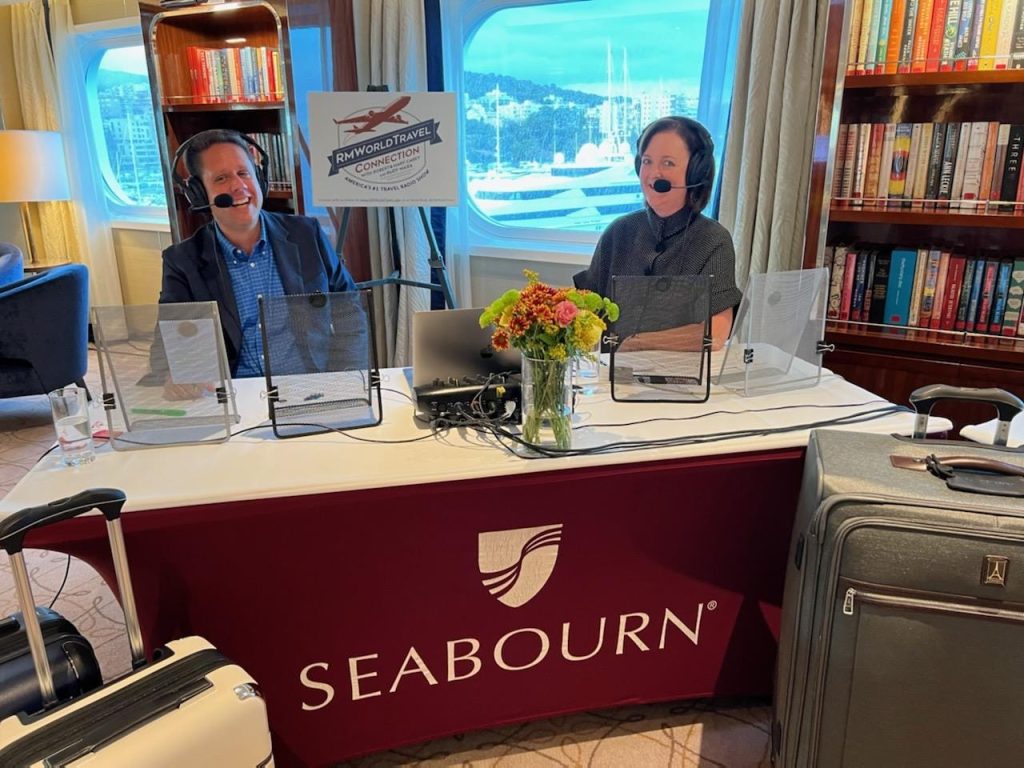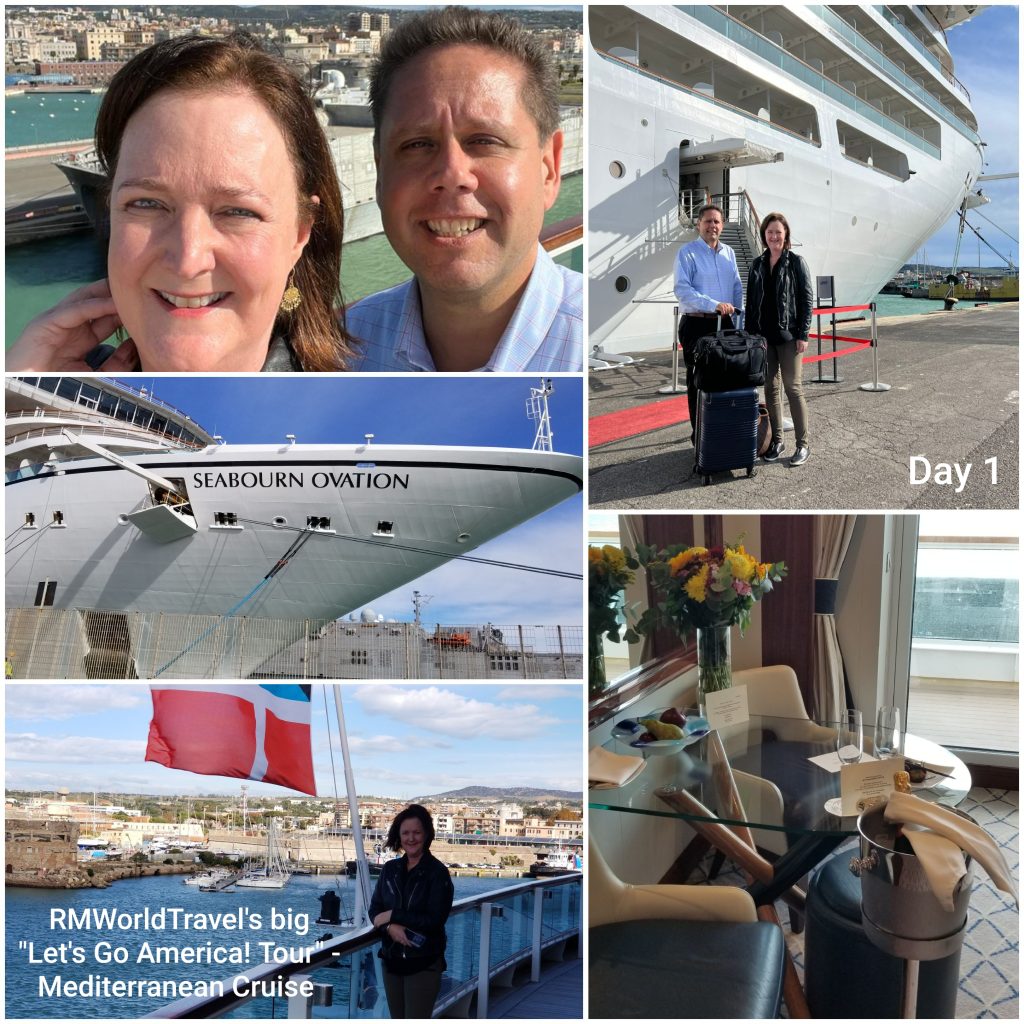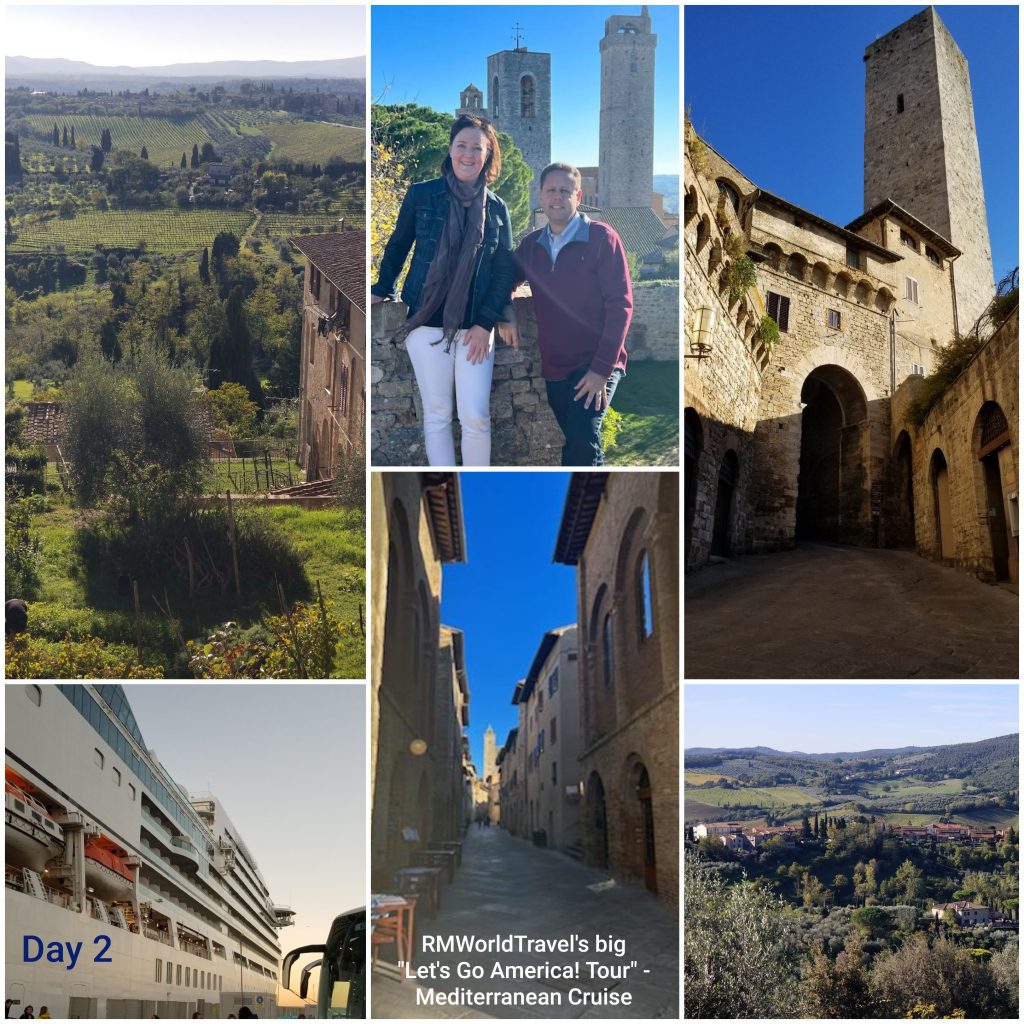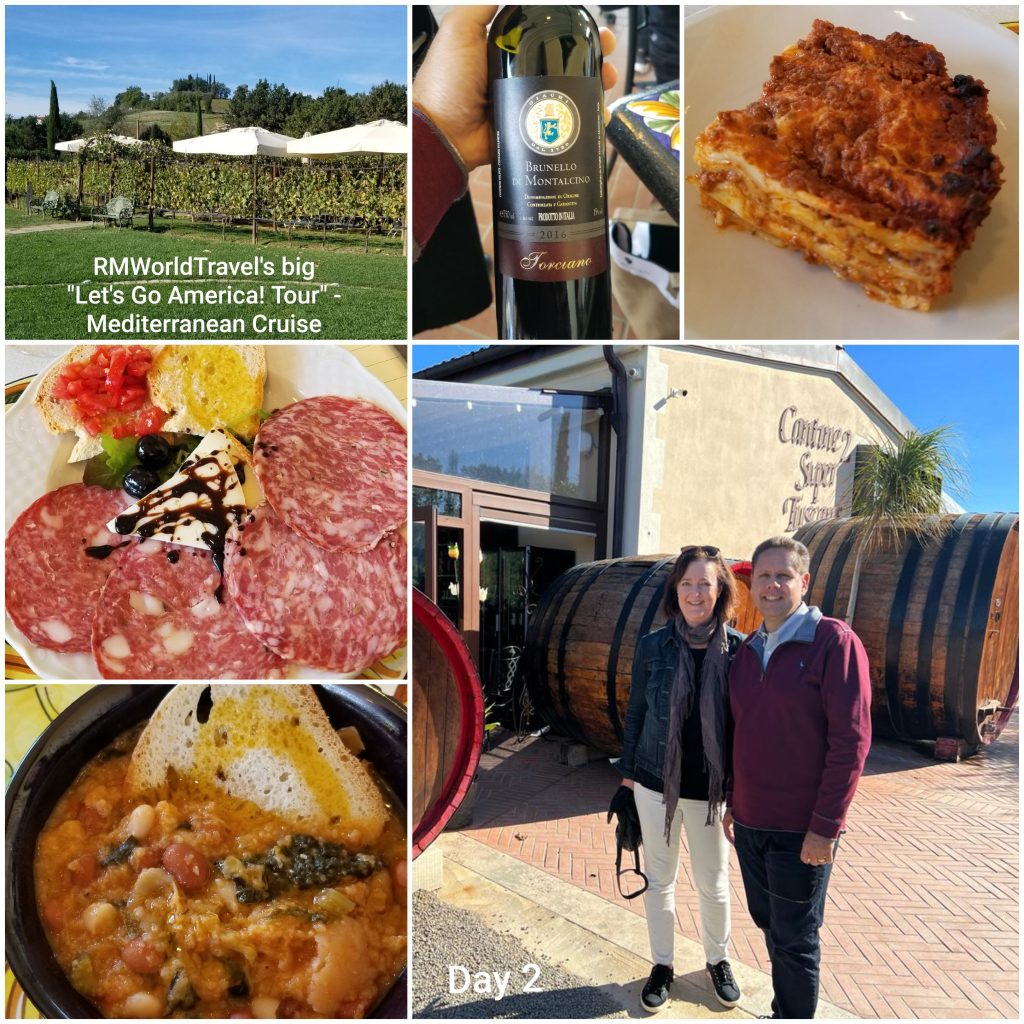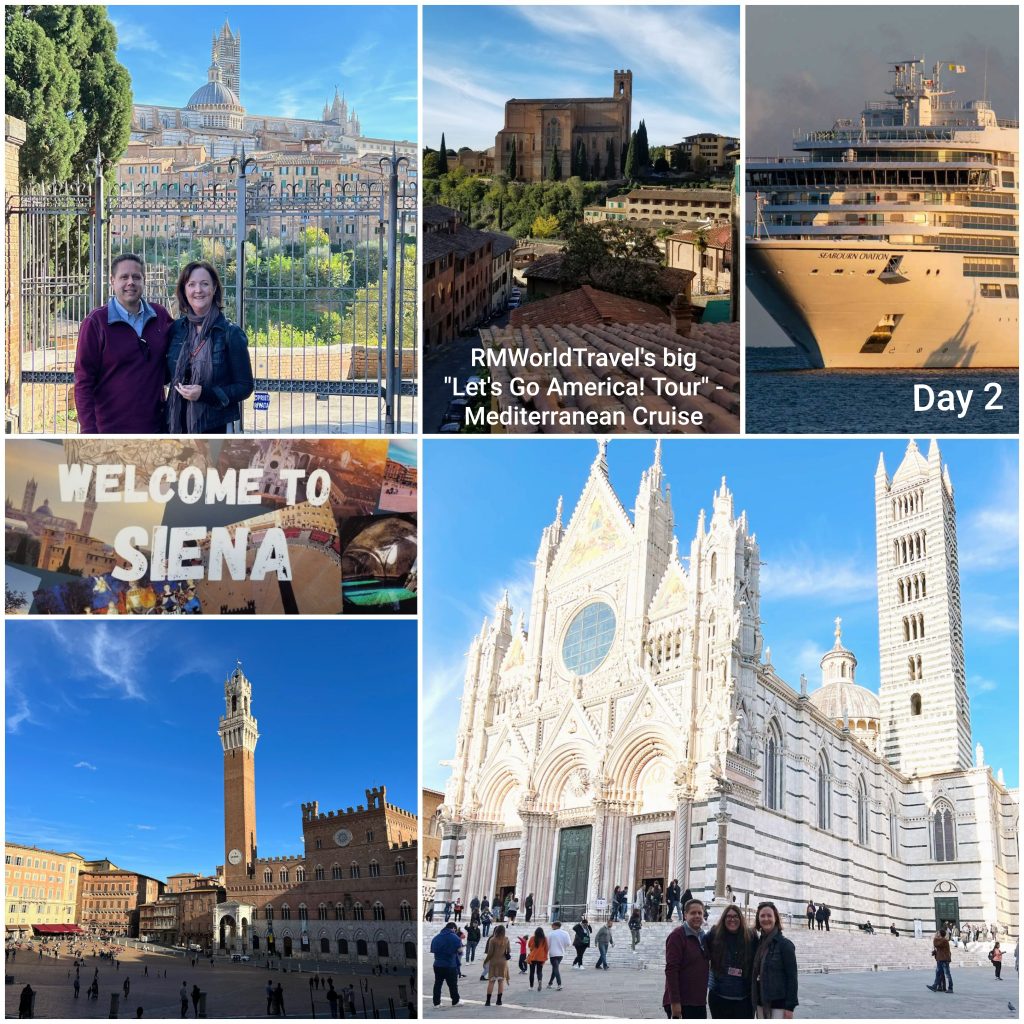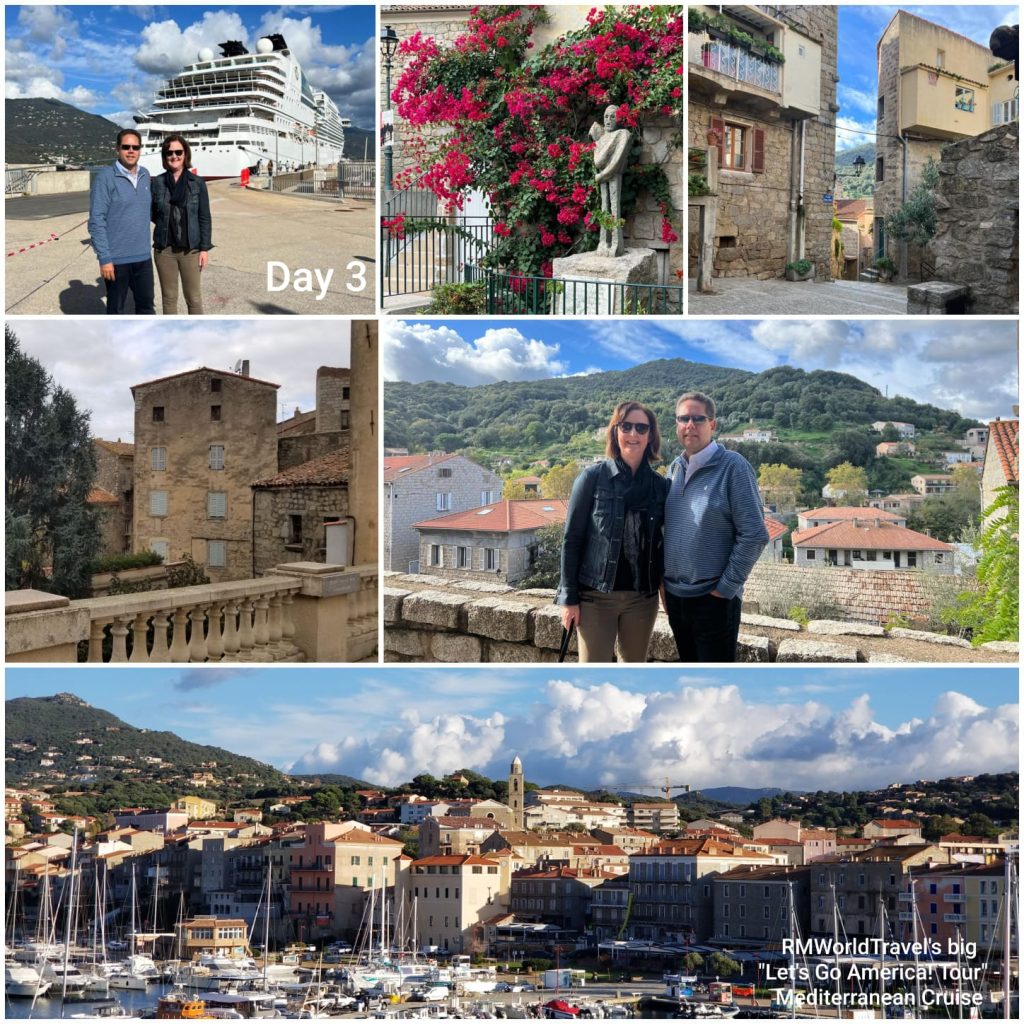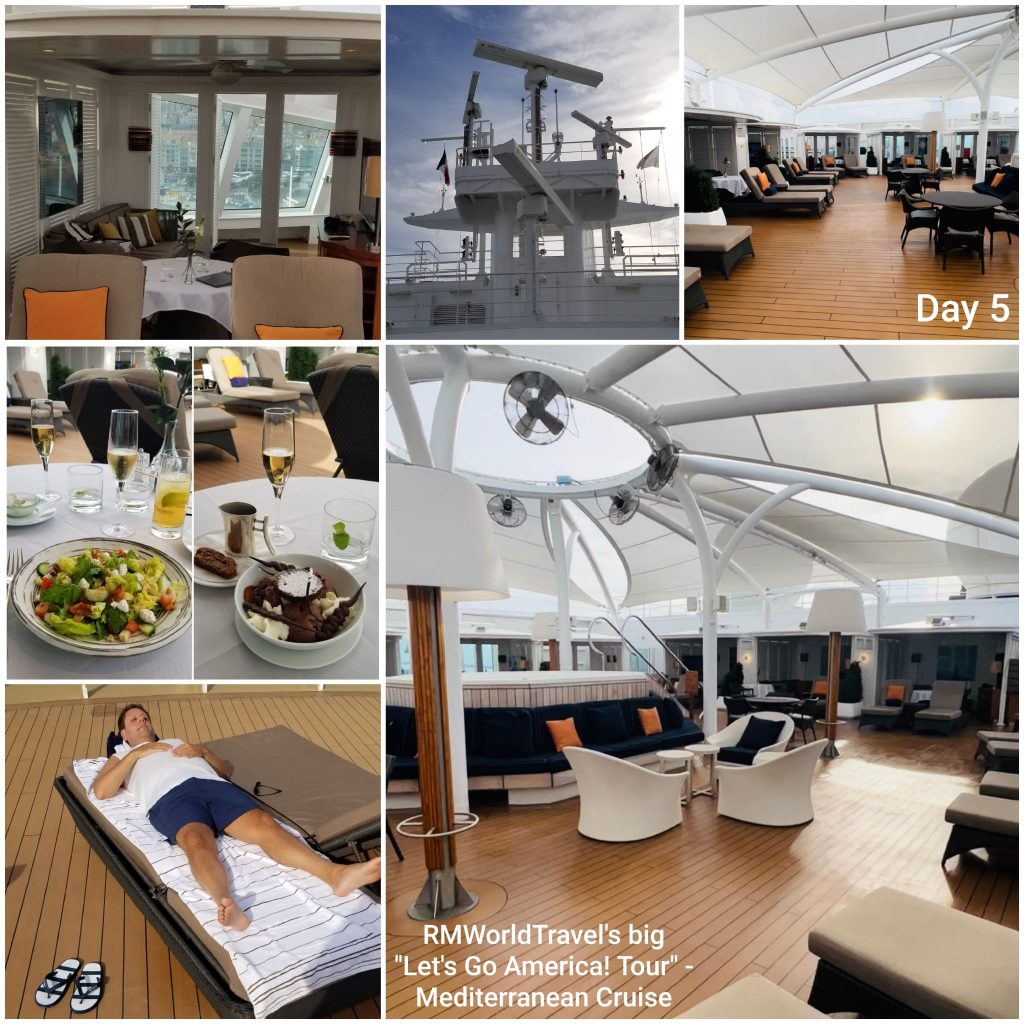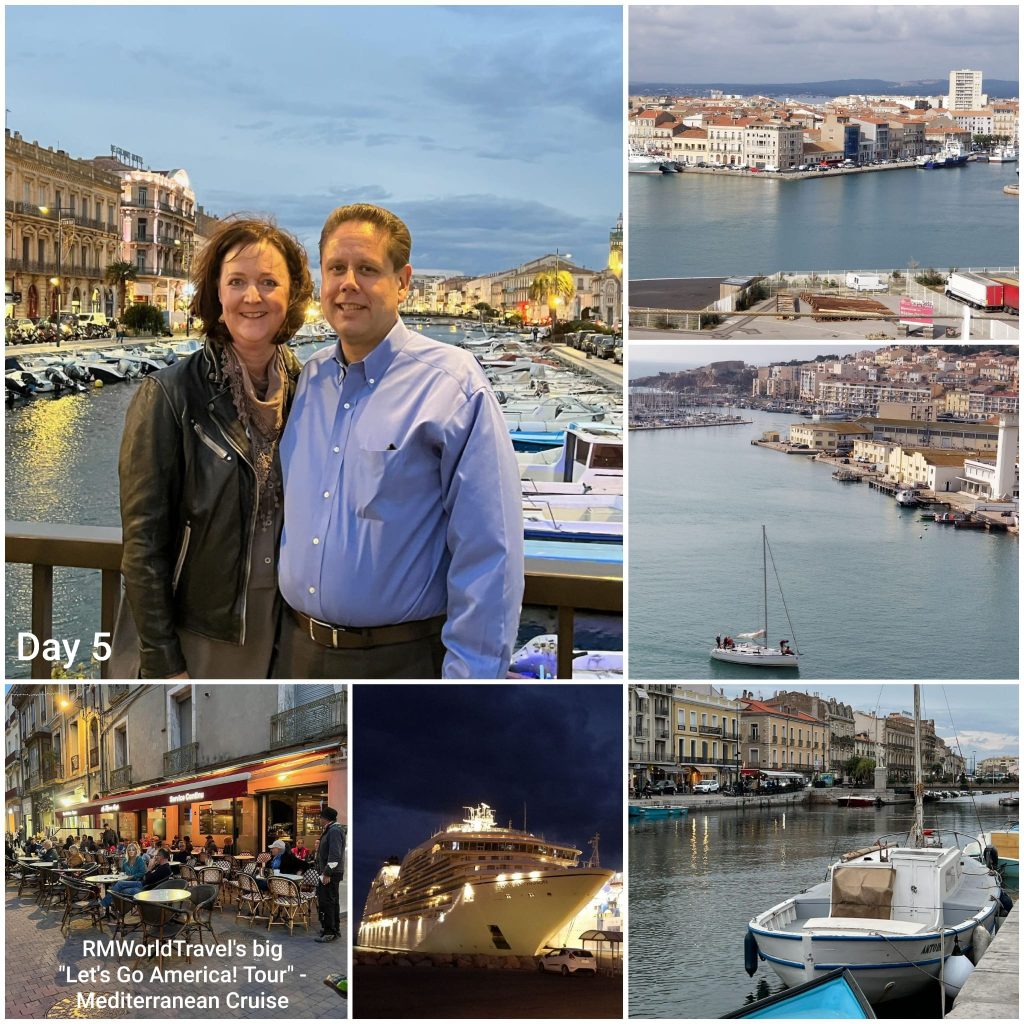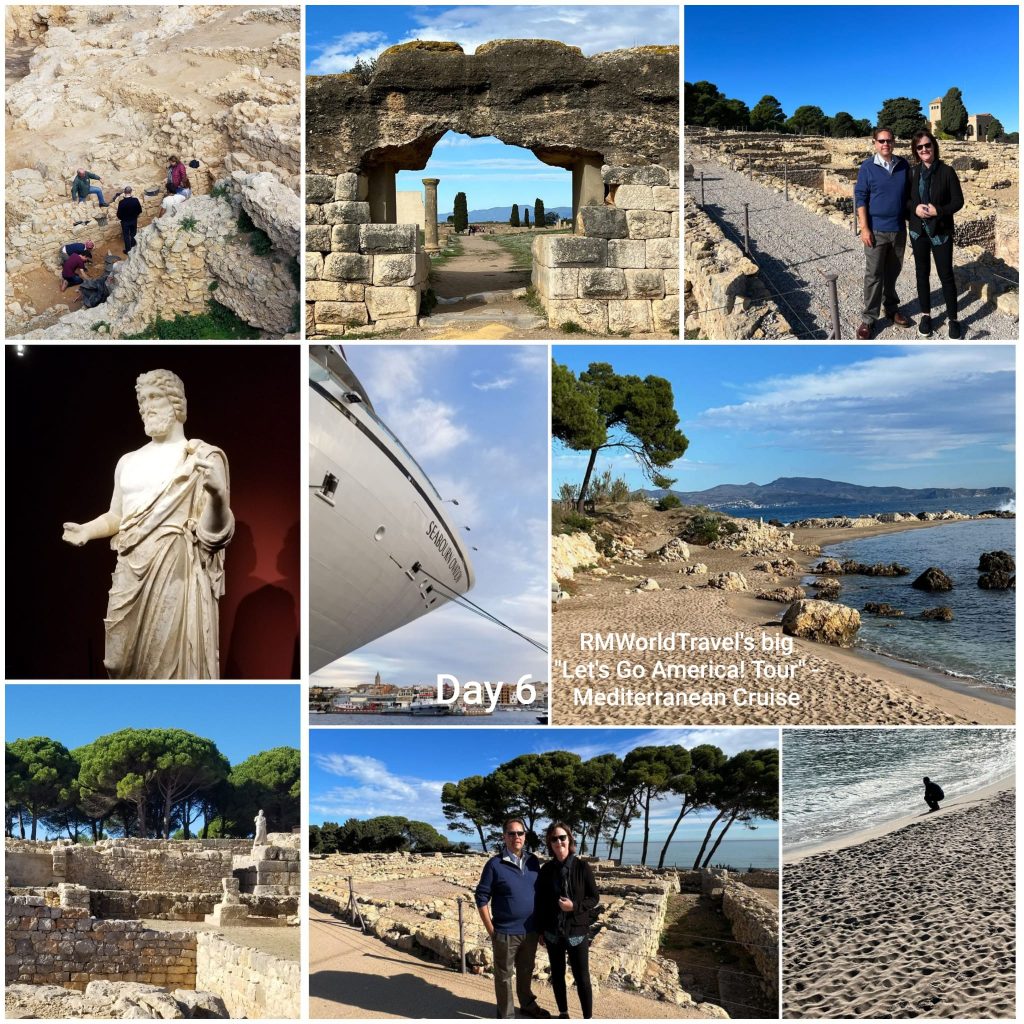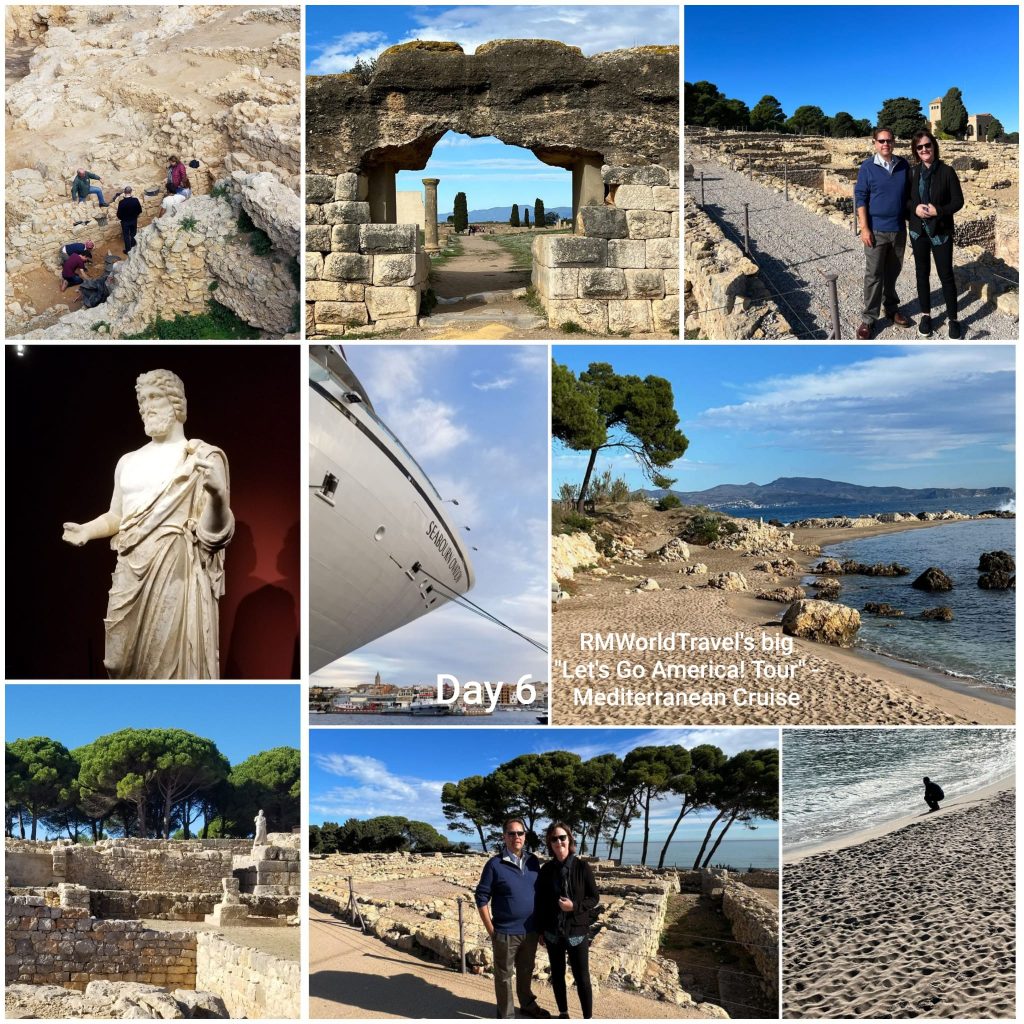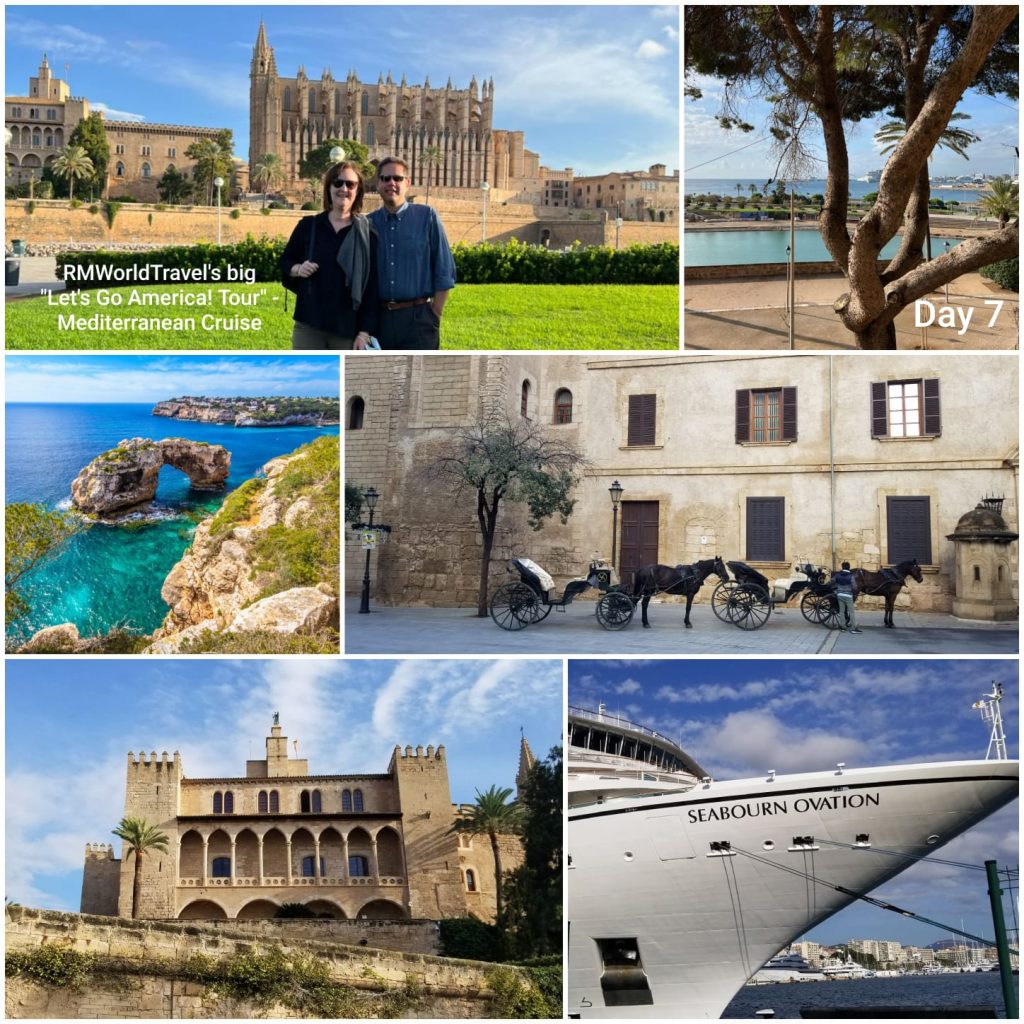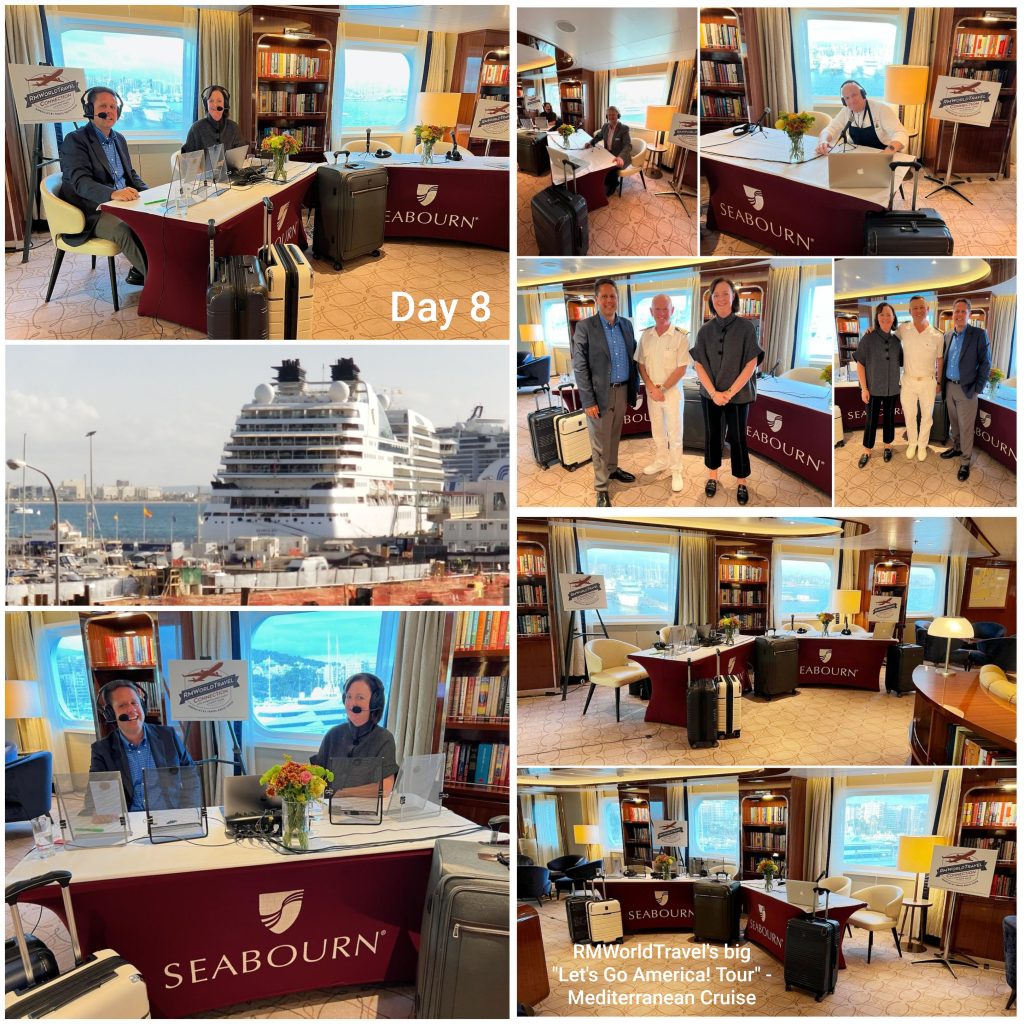 www.Seabourn.com
www.WorldsLeadingCruiseLines.com
For a full recap of our "Let's Go America! Tour" – Mediterranean Cruise, including a summary of the 8-day itinerary, live remote broadcast, multiple photos, varied social media posts and a sampling of comments from show fans – CLICK THIS LINK to access the .pdf!
A week after returning to international travel with America's #1 Travel Radio Show, and a successful 6-day big "Let's Go America! Tour" – Rome itinerary and live remote broadcast from the Eternal City, we immediately headed to the cruise port of Civitavecchia to catch-up with the beautiful Seabourn Ovation, and begin a back-to-back big "Let's Go America! Tour" – Mediterranean Cruise.  This 8-day itinerary took us to other areas of Italy, then France as well as Spain — and included a live remote broadcast of RMWorldTravel from Palma de Mallorca aboard the Ovation on 12 November 2022.
So far in 2022 our special "Let's Go America! Tour" events and remotes have taken us to Miami, Las Vegas, Cape Cod, Atlanta, Portland ME, Hawaii and Rome — after the 2021 editions took us to the Greenbrier Resort in West Virginia, Newport RI, we helped open the all-new Legoland New York in Orange County, there was Chicago, Washington DC, Maui, Santa Barbara and San Antonio — and we decided to culminate the tour portion of our show for the year with an exclamation point — and that involved a return to cruising.  As we've enjoyed a long-standing exclusive alliance with Carnival Corporation over the years now, at the request of their President Josh Leibowitz, we chose Seabourn for these travels.
There is a noticeable difference when you cruise with Seabourn, their ships are intimate with all ocean-front suites, the level of service is personal, genuine and attentive, the multiple dining options along with the quality and variety of the food offerings is superb, their Spa & Wellness services that are partnered with Dr. Andrew Weil is on-par or better than what you'll find on land — and the on-board entertainment is engaging, fun and well produced.
What makes cruising a pleasant way to travel is your hotel comes along with you — so you're not unpacking and packing repeatedly.  We always try to experience as many excursions as possible as they offer a great way to see new areas with locals, and learn about new places to plan future travel to.  Or in some cases, these off-ship excursions provided a different flavor and perspectives when revisiting a destination.
RMWorldTravel's big 8-day "Let's Go America! Tour" – Mediterranean Cruise took us to the gorgeous Tuscany area of Italy and included Livorno, San Gimignano and Siena.  We also visited the Tenuta Torciano vineyards in Ulignano to experience first-hand prized wines from this 13th generation family — including Brunello di Montalcino, Vino di Montepulciano, Chianti Classico Riserva, Terrestre and others.  After Italy it was on to breathtaking mountainous French Mediterranean island of Corsica, as we explored its southern region at Propriano and Sartene.  From there we visited Marseille, Aix-en-Provence and the charming port town of Sète, often called the "Little Venice of Languedoc"…  With so many diverse travels to Italy and France covered over Days 1-5 on the itinerary, we weren't done yet as next-up it was Spain, and the Mediterranean Costa Brava.  These travels brought us to Palamós, Begur as well as the Catalonian ancient city of Empúries before we embarked on a voyage to the resort city and capital of the Spanish island of Mallorca in the western Mediterranean — Palma de Mallorca.
During what we call the "Fastest 2 Hours in Travel" — on Day 8 of our travels, Palma de Mallorca is where we broadcast America's #1 Travel Radio Show from live, as we were joined on-set by Seabourn Captain Andrew Pedder, Hotel Manager Zoran Jacimovic, Cruise Director Chris Harley and Executive Chef Farid Oudir.  Also part of the show were a number of Seabourn passengers, local guides in Tuscany and Corsica and others.
To hear the national radio broadcast of RMWorldTravel with Robert & Mary Carey and Rudy Maxa again — that ran across the USA on our network of 495+ weekly radio stations, simply click on the play arrows immediately below this text and enjoy!
Let's Go America!
_____________________

RMWT2246
Hour 1
— Topics & Guests on this hour of RMWorldTravel with Robert & Mary Carey and Rudy Maxa include:
Seg 1 – Robert & Mary Show Open, "Let's Go America! Tour" – Mediterranean Cruise talk and more
Seg 2 – The Cruise Director plays such an important role in delivering memorable guest experiences, and Seabourn Ovation's Chris Harley jumps aboard with details
Seg 3 – While in Tuscany, we go off-ship for excursions to Siena, San Gimignano and the Tenuta Torciano vineyards with local guide Laura Dente
Seg 4 – When possible, travel to the Mediterranean region should include a visit to Monaco, and Sandrine Camia weighs-in with details and enticements
Seg 5 – Some of the best culinary experiences on the seas can be enjoyed with Seabourn, and Executive Chef Farid Oudir discusses the food options with us
Hour 2
— Topics & Guests on this hour of RMWorldTravel with Robert & Mary Carey and Rudy Maxa include:
Seg 1 – Robert & Mary Show Open, plus Seabourn Ovation Captain Andrew Pedder joins us to share pride of the ship, navigating the world's seas and more
Seg 2 – When you cruise your hotel comes along, so making your stay exceptional is Hotel Director Zoran Jacimovic's job and he connects with us live on-set with thoughts
Seg 3 – We spend a day off-the-ship on the beautiful, rugged French island of Corsica, with local guide Virginia Ferrand Sereni
Seg 4 – Nancy and Dale Houchens share their story of selling everything to live on a Carnival Cruise Ship, and how the crew has become "extended family"
Seg 5 – We take the show mics around the Seabourn Ovation to meet with a number of other passengers to hear about their cruise experience(s)