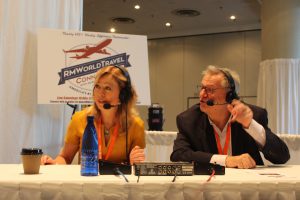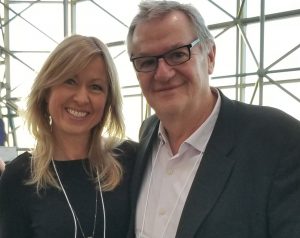 Rudi Schreiner, Chief Executive Officer / Co-Owner
Kristin Karst, Executive Vice-President / Co-Owner
AmaWaterways River Cruises
www.AmaWaterways.com
During their live remote broadcast of RMWorldTravel from The New York Times Travel Show, on 26 January 2019, Robert, Mary and Rudy were joined by Show Friends Rudi Schreiner and Kristin Karst, the co-owners of AmaWaterways River Cruises, a sustaining program sponsor.  Kristin also joined the 'Travel Trio' later in the day as a panel guest as well, as they hosted the top General Session event.  During their radio appearance, in addition to getting an update on the forthcoming AmaMagna and AmaDuoro, everyone casually  talked travel, trends, the increased popularity for river cruising and more, mixed in with some fun and laughs as well.  You can now listen to the archive of this live interview, by clicking on the play arrow below this text.
Well before they partnered with us, we respected and acknowledged AmaWaterways River Cruises as being a leader in their sector of the travel world.  They offer a personalized experience that once enjoyed will keep you coming back for more.  And this pillar of success is noticeably reflected by the hands-on approach and influences from their married founders/co-owners Rudi Schreiner & Kristin Karst, as well as Gary Murphy, the son of another co-founder, the late Jimmy Murphy.  In December 2017 we traveled with AmaWaterways, broadcasting RMWorldTravel with Robert & Mary Carey and Rudy Maxa live aboard the AmaViola, as she sailed along the Daube River between Vienna and Krems in Austria — experiencing first-hand the "AmaWaterways difference" in river cruising.  For our latest "Chief Travel Leader" episode, during our 20 October 2018 broadcast, Robert & Mary invited Rudi and Kristin to join them and share some of their story, discuss the upcoming debut of the AmaMagna, the growing popularity of river cruising as well as emerging trends, what makes them different and we also acknowledged some of the many prestigious awards the company continues to earn from others in the travel industry.  You can access the full interview that aired across our network of nearly 400 weekly radio stations nationwide here …