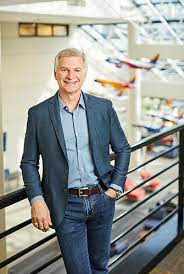 Bob Jordan, CEO
Southwest Airlines
www.Southwest.com
Dating back to its inception in 1967, Southwest Airlines has grown to become one of America's top airlines, and its distinctive operations and culture have connected with millions of travelers, creating strong loyalty.
We first connected with Bob Jordan on-air in early January 2022, a few weeks prior to him formally assuming Southwest's CEO role, and 21+ months later we decided to reconnect with him on-air for the latest "Chief Travel Leader" conversation during our 28 October 2023 live broadcast of America's #1 Travel Radio Show.  From hearing first-hand about Bob's transition to the top job and his passion for it, to a lively discussion about 2024 enhancements to the Rapids Rewards loyalty program, Southwest's commitment and growth to operations in Hawaii, current supply chain issues impacting Boeing and their 737 aircraft deliveries, Southwest's latest order for more Boeing jets, along with what was learned from last December's holiday service meltdown and the significant investments and changes the company has made to correct it  — our extended conversation was candid, comprehensive and engaging.
Now that the live broadcast has been transmitted via satellite and aired across the nation via our 535 weekly radio stations who run RMWorldTravel with Robert & Mary Carey and Rudy Maxa, you can access the full interview here by clicking on the play arrow immediately following this text …
__________________________________________________
Back in mid-2021, Southwest announced that longtime company veteran Bob Jordan would take on the CEO role, replacing Gary Kelly at the end of January 2022.  And just as Bob is about to begin personally piloting the company, and to begin the 2022 broadcast year of America's #1 Travel Radio Show, for our first "Chief Travel Leader" conversation of the New Year, we invited him to join us live on-air and discuss his career within the company, the transition to becoming its CEO, expectations for travel ahead — and new opportunities his successes can create.
To hear the full conversation that aired across our national radio network of now 480+ weekly stations broadcasting RMWorldTravel with Robert & Mary Carey and Rudy Maxa during our 8 January 2022 show, simply click the play arrow below to access the archived audio …