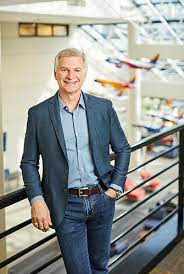 Bob Jordan, Incoming CEO
Southwest Airlines
www.Southwest.com
Dating back to its inception in 1967, Southwest Airlines has grown to become one of America's top airlines, and its distinctive operations and culture have connected with travelers, creating strong loyalty.
Back in mid-2021, Southwest announced that longtime company veteran Bob Jordan would take on the CEO role, replacing Gary Kelly at the end of January 2022.  And just as Bob is about to begin personally piloting the company, and to begin the 2022 broadcast year of America's #1 Travel Radio Show, for our first "Chief Travel Leader" conversation of the New Year, we invited him to join us live on-air and discuss his career within the company, the transition to becoming its CEO, expectations for travel ahead — and new opportunities his successes can create.
To hear the full conversation that aired across our national radio network of now 480+ weekly stations broadcasting RMWorldTravel with Robert & Mary Carey and Rudy Maxa, simply click the play arrow below to access the archived audio …