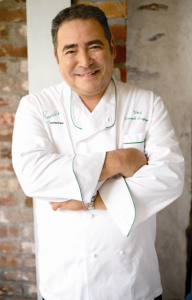 Emeril Lagasse, Expert Celebrity Chef, Restauranteur, Entrepreneur
www.Emerils.com
Some people in life need no introduction and that's certainly true with Chef Emeril Lagasse.  Say the name Emeril and you instantly make the association.
Whether you've watched his TV shows, dined at one of his restaurants, cooked from one of his many cookbooks, have bought or given some of the many products that carry his name, Emeril is an American success story and we're proud to include him as a Show Friend.
As we were preparing to depart for Portugal and two big "Let's Go America! Tour" events and upcoming live remotes, knowing that Emeril had just returned from multiple weeks in Portugal himself made for perfect timing.
During our 15 July 2023 live broadcast of America's #1 Travel Radio Show, during the "Personal Connection" segment of the show we discussed Emeril's Portuguese heritage, his just completed recent travels to Portugal and passions for the country, we talked about his son EJ now building his own culinary career and taking on a lead role at the flagship restaurant, Emeril's, in New Orleans.  We also delved into the Emeril Lagasse Foundation that has been so impactful for kids from underprivileged areas of America who are interested in pursing a career in culinary, nutrition and the arts.
Emeril's enthusiasm and upbeat personality always make him a joy to have on-air, and this most recent appearance was no different.  To hear our full conversation that aired across the USA via the now 525 weekly stations airing RMWorldTravel with Robert & Mary Carey and Rudy Maxa, simply click on this play arrow immediately following this text…
_____________________________________
2020 has been a challenging year for so many sectors of the Travel World, and the Hospitality and Restaurant sectors have experienced some of the harshest conditions.  As we prepared to celebrate Christmas and soon welcome in a New Year, we decided to catch-up with Emeril Lagasse and get his insights into the Coronavirus inflicted struggles that chefs and restaurants are enduring nationwide, along with an update on his own operations.  He also shared a delicious recipe for his Rich Chocolate Pecan Pie that's ideal for the holidays as part of our "Travel The World From Your Own Kitchen" segment.
You can access the full recipe here – https://www.emerils.com/121129/rich-chocolate-pecan-pie
And to hear the full interview that aired during our live broadcast of America's #1 Travel Radio Show on 19 December 2020 across the nation via our 440+ weekly affiliates broadcasting RMWorldTravel with Robert & Mary Carey and Rudy Maxa, simply click the play arrow below to access the now archived audio …