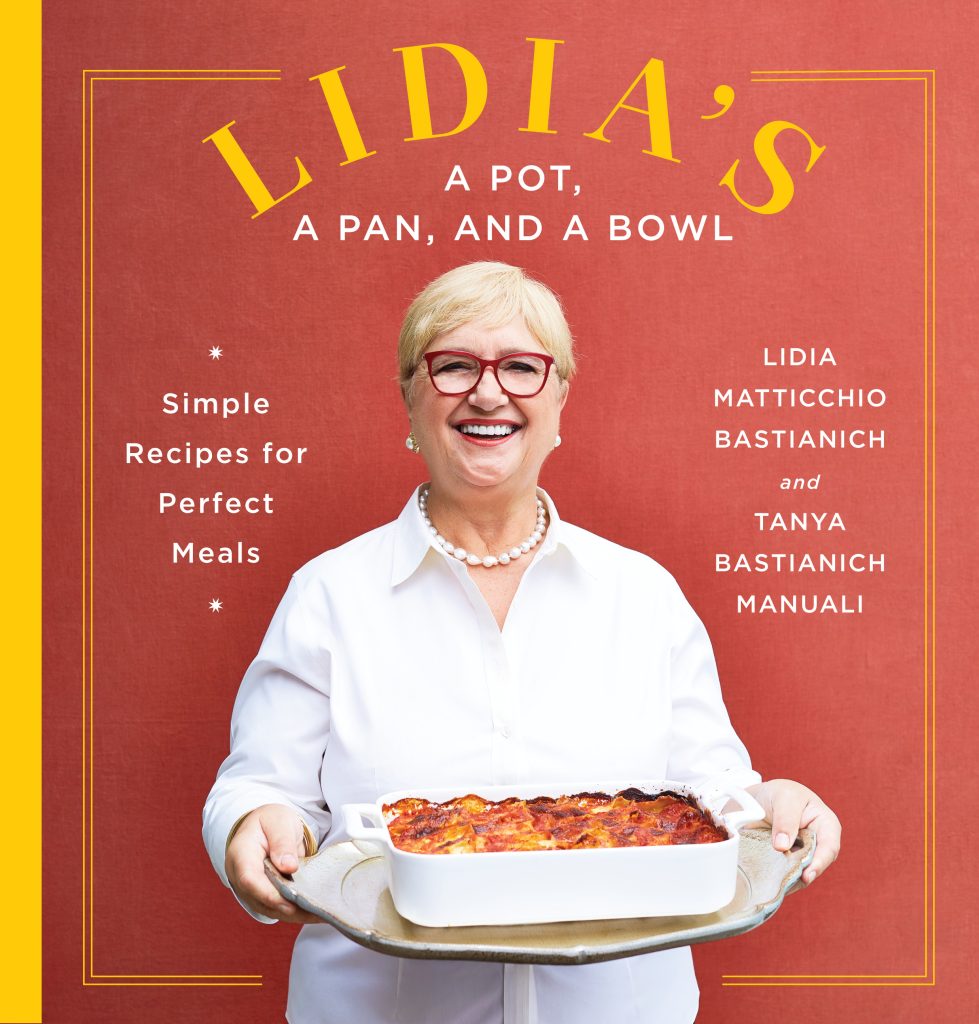 Chef Lidia Bastianich
www.LidiasItaly.com
Food and travel have always paired with us, and during the height of the pandemic, as we broadened the scope of our popular national weekly travel show — adding the "Travel The World From Your Own Kitchen" segment was a natural extension.  It's remained ever since evolving into a recurring show segment several times a year because for the majority of us great travel experiences and memories are often linked with food.
With Christmas coming and the holiday season already here, for our latest installment we invited Chef Lidia Bastianach to join us live on-air and share her delicious One-Pan Chicken and Eggplant Parmigiana recipe with show fans across the USA that can be easily prepared at home.
Lidia easily connects with people and as you may know she's an Emmy award-winning television host, a best‐selling cookbook author, she's a successful restaurateur, part owner of the popular Eataly outlets and more…
To hear our exclusive conversation with Chef Lidia Bastianich, that aired during our live broadcast of America's #1 Travel Radio Show on 17 December 2022, across our 495+ weekly radio affiliates nationwide broadcasting RMWorldTravel with Robert & Mary Carey and Rudy Maxa, simply click the play arrow below to access the now archived audio from our live broadcast…  You will also find the detailed recipe below so you too can "Travel The World From Your Own Kitchen!"
Here's the full recipe for Chef Lidia's One-Pan Chicken and Eggplant Parmigiana…
}  YOU'LL NEED
1 1/2 pounds of Thinly Sliced on a Bias, Boneless Chicken Breast (about 12 pieces)
1 Medium Italian Eggplant (about 12 ounces)
1 28 ounce Can of San Marzano Tomatoes (crushes by hand)
1/4 cup Chopped Fresh Basil Leaves
1 1/2 Cups Grated Low-Moisture Mozzarella
1/2 Cup Freshly Grated Grana Padano
Kosher Salt
All-Purpose Flour (for dredging)
Extra-Virgin Olive Oil (as needed)
4 Garlic Cloves (crushed and peeled
}  MAKE IT
Preheat the oven to 425 degrees.
Remove vertical stripes of peel from the eggplant with a vegetable peeler.
Slice the eggplant crosswise on the bias into 1/4-inch-thick slices, ideally about 12 in total.
Season with 1/2 teaspoon salt.
Season the chicken pieces with 1 teaspoon salt.
Spread the flour in a shallow bowl, and lightly dredge the eggplant and the chicken.
Heat a large nonstick skillet over medium-high heat — add a thin film of olive oil.
Brown the eggplant in batches, 2 or 3 minutes per batch, removing them to a plate as they brown.  Add more oil, if needed.
Brown the chicken in batches, 2 to 3 minutes per batch, removing the pieces to the same plate as the eggplant (if they will fit) as they brown.
Discard the oil, and wipe the pan clean with a paper towel.
Return the skillet to medium heat and add 3 tablespoons of olive oil.
When the oil is hot, add the garlic, and cook until it's sizzling, about 1 minute.
Add the tomatoes and 1/2 cup water — season with 1/2 teaspoon salt and a large pinch of peperoncino.
Simmer until the sauce thickens slightly – about 8 to 10 minutes, then stir in the basil.
Shingle the chicken and eggplant in the skillet, alternating them, starting around the edge of the pan and then filling in the middle.
Sprinkle with the cheeses.
Bake until browned and bubbly all over, 20 to 25 minutes, and serve.