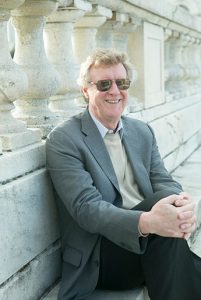 Dan Sullivan, Jr., Chief Executive Officer
Collette
www.GoCollette.com
Dan Sullivan is a respected and accomplished travel industry influencer, with over 45 years of experience.  He presides over the longest running tour operator in America, and remains active in every aspect of this family owned company.  From Jack Collette in 1918, to Dan Sullivan, Sr. buying the business in the early 1960's, to Dan Sullivan, Jr. taking the reigns in 1990 — the Collette of today offers 173 different tours, traveling to 57 countries and all 7 continents.
For our live national broadcast on 21 April 2018, and the latest episode of our exclusive "Chief Travel Leader" series, Collette's CEO Dan Sullivan, Jr. joined us for a candid conversation to talk about his business celebrating 100 years of operations, the travel industry, his passions for travel and more.
To hear our engaging conversation, access it here ….