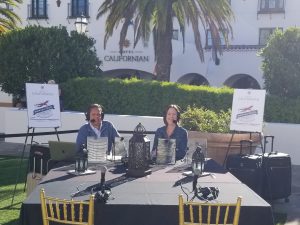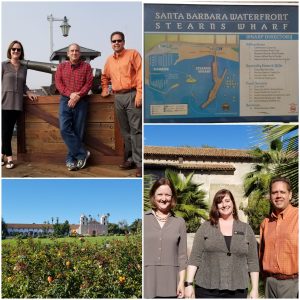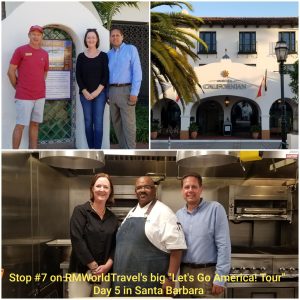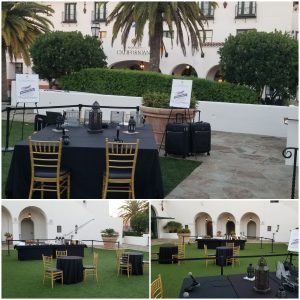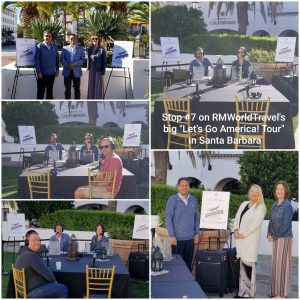 www.VisitSantaBarbaraCA.com
www.HotelCalifornian.com
Each stop on RMWorldTravel's big "Let's Go America! Tour" has brought its own form of uniqueness, energy and tone.  And it's been so rewarding to see, feel and experience the impact it's having with our show fans!  When someone thinks of travel to California for leisure or business — Santa Barbara likely isn't their first, second, or even third location that's considered.  But it's a vibrant area of the State, located about 90 miles north of Los Angeles and a place we feel is worthy of your travel dollars…  It's such an easy city to navigate and whether you enjoy the beach, the mountains, whether you're a foodie or enjoy a cross section of wines, maybe walking and biking is your thing, perhaps it's golf or boating — you'll find all of that here.  Additionally Santa Barbara also has a terrific zoo and botanical garden, the "Queen of the Missions" is located here, plus there's plenty of shopping options and many other things awaiting you as well…
The ambition of this special tour is providing us with an important way to invest in the world of travel that we love, and help folks get more comfortable being back out there with their travels in meaningful ways — while promoting safe & responsible travel.  There is no other vehicle like ours that has the ability to positively impact so many travelers — since America's #1 Travel Radio Show is heard on over 480+ weekly stations across the USA and reaches in excess of 1.2 million listeners.  Additionally, we also have a 24/7 global TuneIn channel, we live stream and archive every broadcast on our website at RMWorldTravel.com, plus there's our social media platforms and more.
For the 13 November 2021 live broadcast of RMWorldTravel with Robert & Mary Carey and Rudy Maxa, for Stop #7 on the "Let's Go America! Tour" we chose to make "America's Riviera" city the focus and we enjoyed a successful return to Santa Barbara as we broadcasted from Hotel Californian.  As with every stop on this special tour, it's nicely connecting with our show fans/followers and the response has been terrific.
For a quick .pdf recap of the live broadcast, photos & some social media posts/listener comments – CLICK THIS LINK!
We kicked off the national tour back in May 2021 at the Greenbrier Resort in West Virginia as Stop #1, then it was Newport RI for Stop #2 in June — the all-new Legoland New York / Orange County NY was Stop #3 in July, Chicago was Stop #4 that included celebrating the 150th Anniversary of the Palmer House in August, then we moved on to Washington, DC for Stop #5 to respectfully commemorate 9/11 in September.  October 2021 brought us to Maui for Stop #6 at the Waldorf-Astoria Grand Wailea Resort, and now for Stop #7 it was Santa Barbara and Hotel Californian's turn to shine.
To hear the full broadcast that ran across our national network, simply click on the play arrows immediately below this text and enjoy!  Let's Go America!
Hour 1
— Topics & Guests on this hour of RMWorldTravel with Robert & Mary Carey and Rudy Maxa include:
Seg 1 – Robert & Mary and Rudy Show Open, "Let's Go America! Tour" Stop #7 talk, Roundtable News and more
Seg 2 – Robert & Mary reconnect with Chef Travis Watson to talk Santa Barbara culinary, what inspires him, places he enjoys traveling and more
Seg 3 – As California's oldest working wooden wharf, Stearns Wharf is a must visit spot in Santa Barbara, so we take the show there to talk with Neil Bruskin
Seg 4 – Lotusland is celebrated as one of the world's best botanic gardens and it's located near Santa Barbara in Montecito.  Rebecca Anderson offers details
Seg 5 – We first met James Minton up in AK on a broadcast, but now that he's joined Visit Santa Barbara, we catch-up to discuss "America's Riviera" city

Hour 2
— Topics & Guests on this hour of RMWorldTravel with Robert & Mary Carey and Rudy Maxa include:
Seg 1 – Robert & Mary and Rudy Show Open plus Compass Real Estate agent Nicole Dinkelacker shares insights into the Santa Barbara real estate market
Seg 2 – Hotel Californian just experienced an ownership change, and Managing Director Warren Nocon discusses his property, upcoming opportunities, etc.
Seg 3 – We always enjoy visiting cathedrals, churches and other religious sites when we travel, and Elizabeth Bryson shares Old Mission Santa Barbara
Seg 4 – Rudy has some fun and offers up a helping of travel 'Deals of the Week' through the prism of our loyal sponsors
Seg 5 – After taking a Funk Zone walking tour with John Ummel, we invited him on-air to discuss the offerings on his free Santa Barbara Walking Tours